Basel, Switzerland (UroToday.com) Dr. Alicia Morgans presented on disparities in prostate cancer management in the United States. She began her presentation stating that social health is determined by many factors (Figure 1) which could be responsible for these disparities.
There were 174650 new cases of prostate cancer in the US in 2019. Black Americans have approximately 2 times higher incidence of prostate cancer vs. white Americans, and ~2.5 times higher mortality.
Figure 1 – Determinants of health: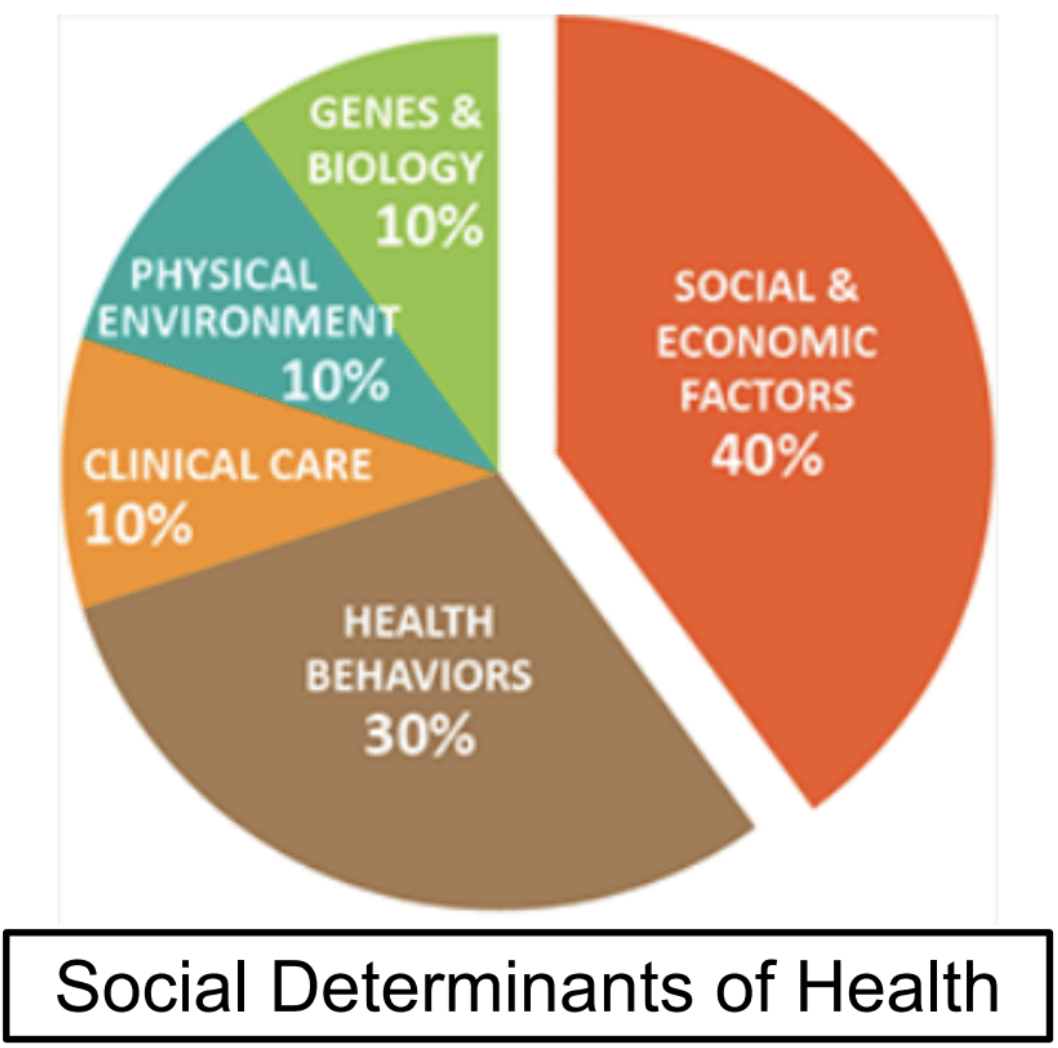 In the US disparities exist not only in blacks compared to white Americans, but also by socioeconomic status, age (with improvement in survival more pronounced for younger men), geography, education and more. There are also disparities in cancer-specific outcomes and supportive care delivery.
An example of education and poverty driving disparity in care is the US region of the Appalachia (Figure 2). A study compared the survival between men from Appalachia to that of men, not from Appalachia from the state of Kentucky. There was considerable poorer survival in Appalachia men. This was associated with lower educational attainment, higher poverty, and greater number of comorbid illnesses.1
Figure 2 – Appalachia education and poverty driving disparity:

Another good example is a study from California examining 270,101 men with prostate cancer. Mediation analysis demonstrated that Black men had poorer survival than other ethnic groups (Figure 3). This was predominantly due to stage at diagnosis (24% of disparity). It was also associated with marital status, neighborhood socioeconomic status, and hospital insurance composition.2
Figure 3 – Race-based disparity in California: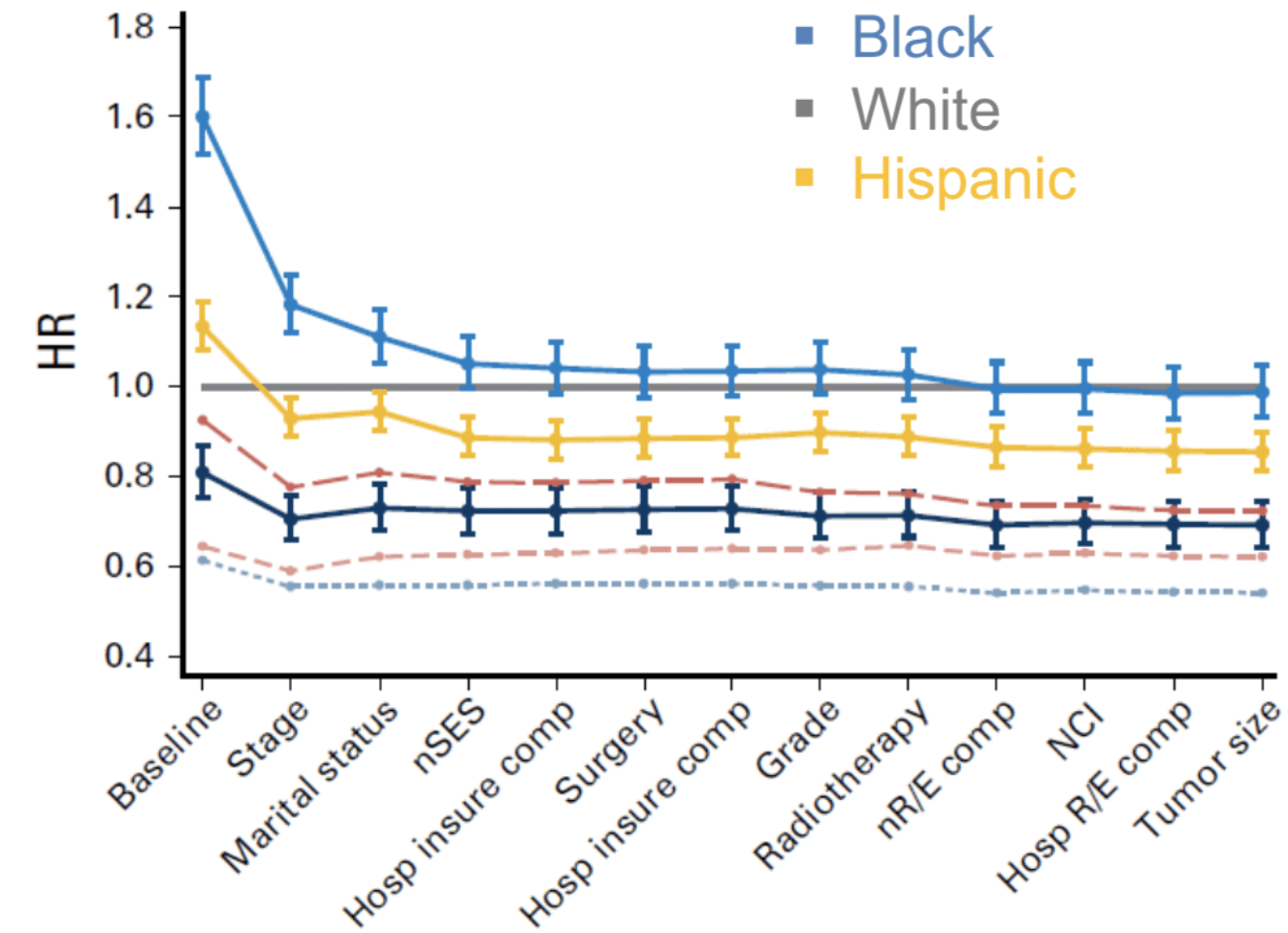 Personal medicine has been gaining momentum in recent years, with genetic/genomic sequencing being increasingly integrated into clinical practice, and after treatment decisions. A recent study demonstrated that TCGA data analyses for tumor samples were enough to detect mutations in white men with prostate cancer (PCa), but insufficient for other races.3 There is also data showing that there is racial disparity in castration-resistant prostate cancer trial,4 and this needs to be rectified.
There have been several studies looking to assess if different disease biology confers superior outcomes. Several studies have tried to assess this (Table 1). The Abi Race study is a non-comparative pilot open-label, parallel-arm study in mCRPC patients (figure 4) attempting to help us understand if different biology confers survival benefits.
Table 1 – Studies assessing race differences:

Figure 4 – Abi Race study design: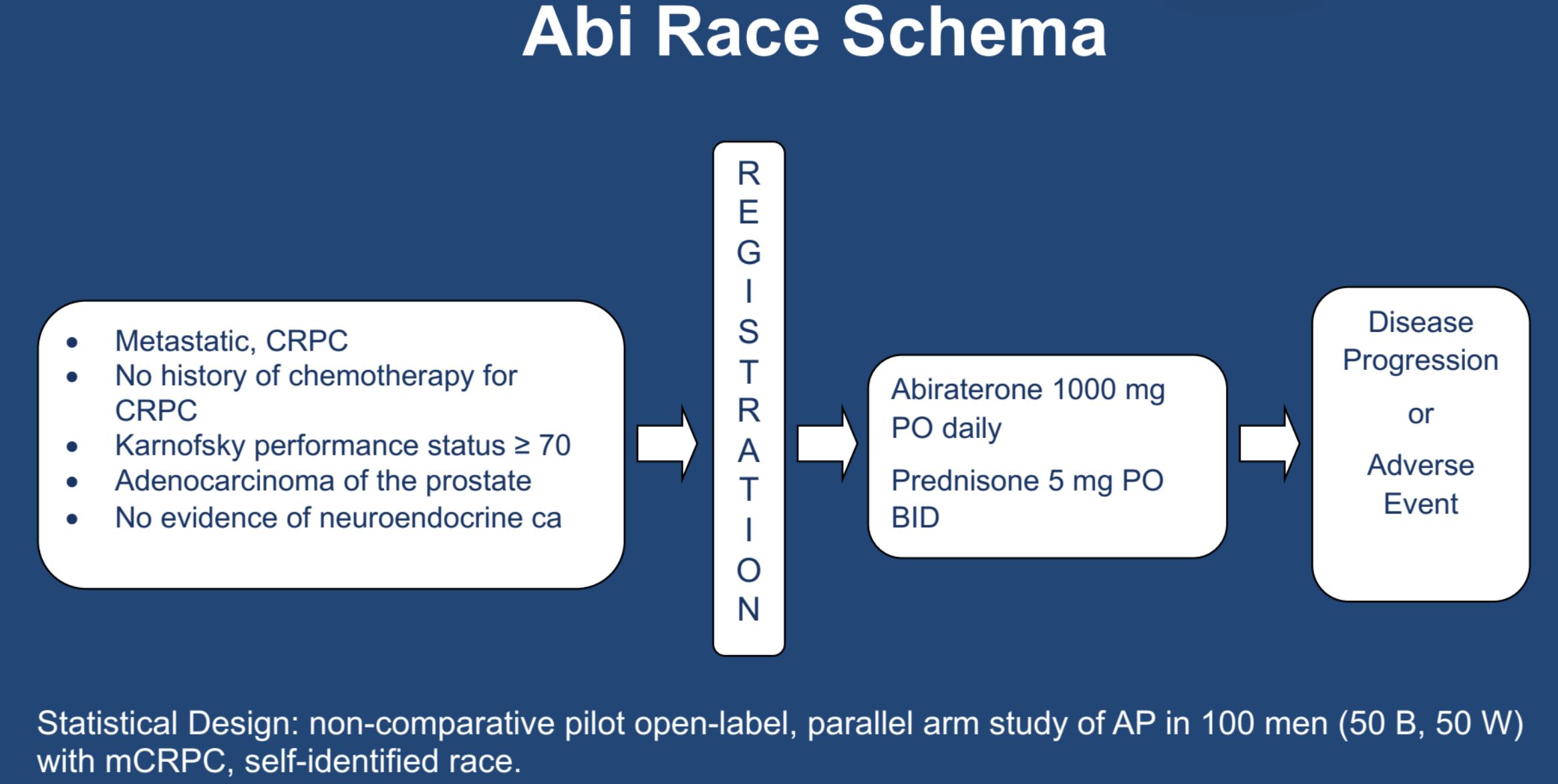 Dr. Morgans concluded her talk stating that disparities in prostate cancer in the US come in many forms, with both biological and social determinants of health contributing to this. Differences in biology may be overcome with improvements in access. Some biological improvements may be associated with improved outcomes. Efforts to enhance inclusion in clinical trials and improve access to genomic sequencing are currently underway.


Presented by: Alicia Morgans, MD, MPH is an Associate Professor of Medicine in the Division of Hematology/Oncology at the Northwestern University Feinberg School of Medicine in Chicago, Illinois.
Written by: Hanan Goldberg, MD, Urology Department, SUNY Upstate Medical University, Syracuse, New-York, USA @GoldbergHanan at the 2019 Advanced Prostate Cancer Consensus Conference (APCCC) #APCCC19, Aug 29 – 31, 2019 in Basel, Switzerland

References

Myint ZW et al. Disparities in prostate cancer survival in Appalachian Kentucky: a population-based study. Rural and Remote Health, 12 May 2019 Volume 19 Issue 2.
Ellis L. et al. Racial and Ethnic Disparities in Cancer Survival: The Contribution of Tumor, Sociodemographic, Institutional, and Neighborhood Characteristics. Journal of Clinical Oncology. 2018 Jan 1;36(1):25-33. doi: 10.1200/JCO.2017.74.2049.
Spratt DE et al. Racial/Ethnic Disparities in Genomic Sequencing. Jama Oncology. 2016 Aug 1; 2(8): 1070–1074. doi:10.1001/jamaoncol.2016.1854.
Spratt DE et al. Efficacy of skin-directed therapy for cutaneous metastases from advanced cancer: a meta-analysis. Journal of Clinical Oncology. 2015 Oct 1;32(28):3144-55. doi: 10.1200/JCO.2014.55.4634.