Basel, Switzerland (UroToday.com) Dr. Karim Fizazi's presentation integrated the previous few presentations, summarizing how best to treat node-positive (cN+) prostate cancer patients. There are over 20 randomized controlled trials in localized and advanced prostate cancer that have been published according to Dr. Fizazi. However, none have been published in the setting of node-positive prostate cancer.
The non-randomized STAMPEDE data on node-positive non-metastatic patients included data on 286 patients included in the study between 2005 and 2014, who were on the control arm and received androgen deprivation therapy (ADT) only.1 The data demonstrated that these patients who received radiotherapy in addition to ADT had an improved progression-free survival (PFS) compared to those who received ADT alone (Figure 1).
Figure 1 – Kaplan Meier curve showing benefit to radiotherapy in node-positive prostate cancer: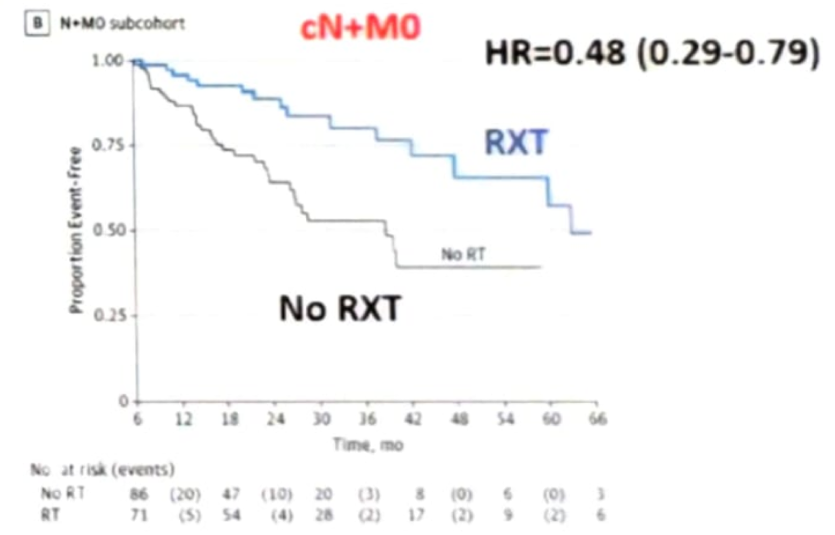 Another study which used retrospective data from the national cancer database (NCDB) and assessed the role of local treatment in prostate cancer patients with clinically positive pelvic-node disease at initial diagnosis, also demonstrated an advantage to local treatment.2 However, there are noteworthy limitations in this study, including the fact that patients in the control arm were older, had more comorbidities, had worse insurance coverage, with a higher PSA and a worse Gleason score.
Randomized data from the STAMPEDE trial assessing radiotherapy of the primary tumor in oligometastatic prostate cancer3 showed that overall survival was improved in patients who received radiotherapy + ADT compared to those who did not receive radiotherapy, and received only ADT (Figure 2).
Figure 2 – Kaplan Meier curve demonstrating overall survival in low metastatic burden: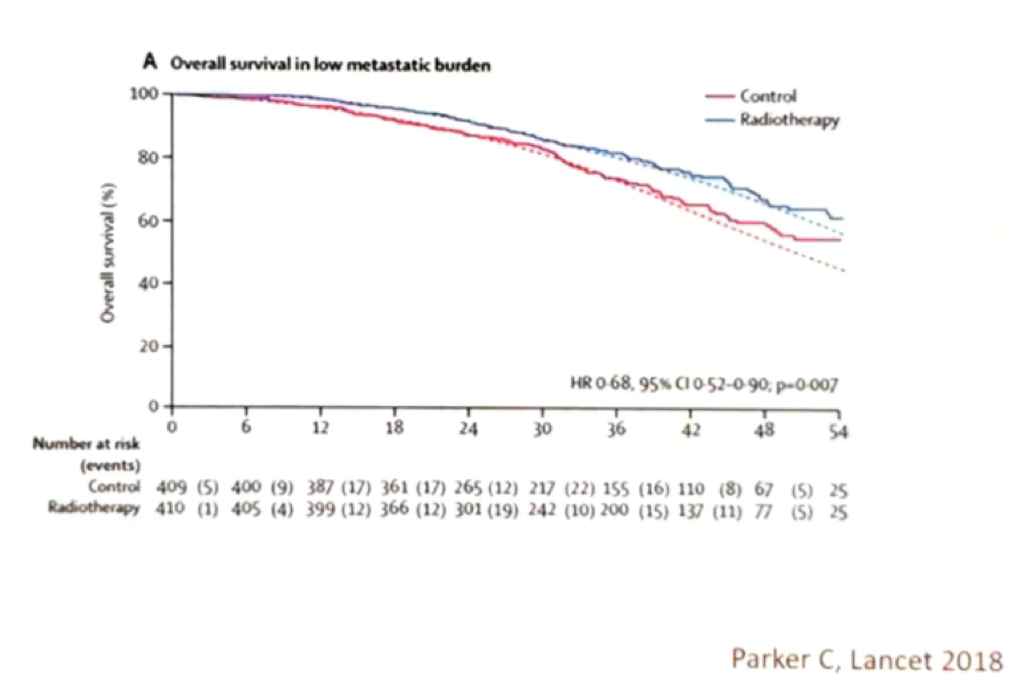 Next, Dr, Fizazi discussed the role of abiraterone in high-risk non-metastatic prostate cancer patients shown in the STAMPEDE trial. There were a total of 384 patients with node-positive non-metastatic disease. The study showed that recurrence-free survival was improved in patients who received ADT + abiraterone compared to those who received only ADT (Figure 3).
Figure 3 – Kaplan Meier curve showing recurrence-free survival in patients receiving standard of care compared to those receiving standard of care and abiraterone: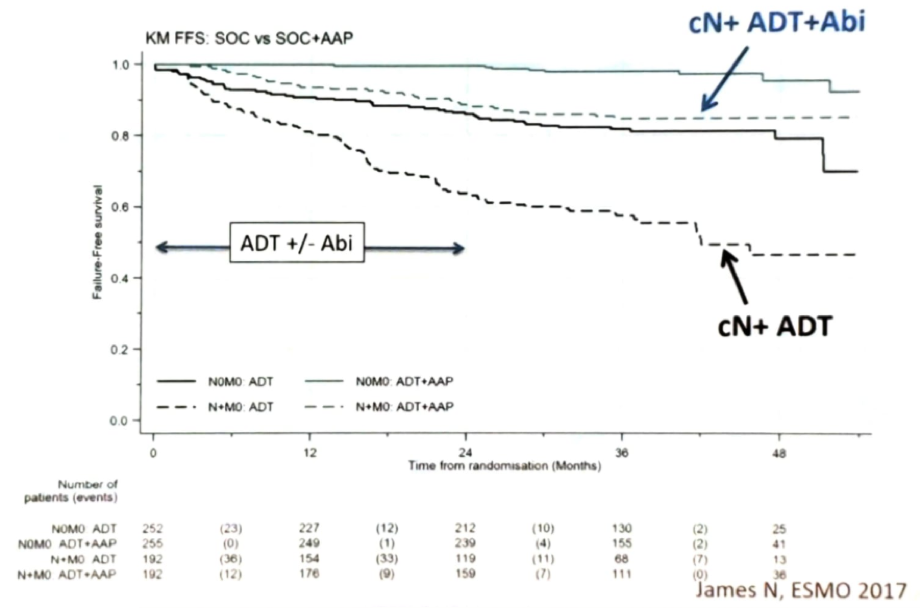 The next topic discussed was whether there is a difference between node positive disease in the pelvis compared to the retroperitoneum. The proPSMA study, with results expected to be presented in the EAU meeting 2020, will perhaps help answer this question. This trial will compare the diagnostic accuracy of PET PSMA to conventional imaging modalities (including CT and bone scans),3 but it will not tell us how best to treat node-positive disease.
Dr. Fizazi concluded his talk by emphasizing that there is currently insufficient evidence to support any specific treatment in node-positive prostate cancer. We need more randomized controlled trials with next-generation imaging to make an informed decision regarding the addition of any specific treatment in these patients. The current recommended treatment includes ADT for an unknown duration, with current evidence supporting the addition of local treatment to the primary tumor and nodes, with a larger field likely better than a smaller field. Lastly, it remains unclear at this point whether abiraterone should be added to these patients.
Presented by: Karim Fizazi, MD, PhD, Professor of Medicine, Institute Gustav Roussay, France
Written by: Hanan Goldberg, MD, Urology Department, SUNY Upstate Medical University, Syracuse, New-York, USA @GoldbergHanan at the 2019 Advanced Prostate Cancer Consensus Conference (APCCC) #APCCC19, Aug 29 – 31, 2019 in Basel, Switzerland
References:
James N, et al. Failure-Free Survival and Radiotherapy in Patients With Newly Diagnosed Nonmetastatic Prostate CancerData From Patients in the Control Arm of the STAMPEDE Trial. JAMA Oncology. 2016;2(3):348-357. doi:10.1001/jamaoncol.2015.4350.
Seisen T. et al. Efficacy of Local Treatment in Prostate Cancer Patients with Clinically Pelvic Lymph Node-positive Disease at Initial Diagnosis. European Urology. 2017 Sep 7. pii: S0302-2838(17)30697-8. doi: 10.1016/j.eururo.2017.08.011.
Hofman MS et al. A prospective randomized multicentre study of the impact of gallium-68 prostate-specific membrane antigen (PSMA) PET/CT imaging for staging high-risk prostate cancer prior to curative-intent surgery or radiotherapy (proPSMA study): clinical trial protocol. BJU International 2018 Nov;122(5):783-793. doi: 10.1111/bju.14374. Epub 2018 Jun 3.