Basel, Switzerland (UroToday.com) The management of castration-resistant prostate cancer (CRPC) session at the Advanced Prostate Cancer Consensus meeting (APCCC) 2019 included a presentation by Mary-Ellen Taplin, MD regarding the first-line treatment of metastatic CRPC (mCRPC) after docetaxel or AR pathway inhibitors in the metastatic hormone-sensitive prostate cancer (mHSPC) setting. Dr. Taplin notes that there is currently no prospective clinical trial data to guide the optimal selection of treatment for first-line mCRPC after ADT/docetaxel or ADT/AR-inhibition.
Optimal treatment for first-line mCRPC (after ADT/docetaxel/AR) depends on established drivers of tumor growth. These likely include adaption and selection of resistant clones, AR-dependent and AR-independent entities, and a high degree of heterogeneity. Clinically available measures of tumor biology are limited by availability, validated predictive accuracy, and therapeutic benefit. Examples of potentially actionable tumor alterations in mCRPC include AR V7 splice variant, AR amplification, DDR alterations, and MSI high. Dr. Taplin notes that DNA repair gene alterations (especially biallelic BRCA) should be determined early for consideration of PARP inhibitors, carboplatin, and clinical trials.
Several clinical features to guide therapy selection, include the following:
De novo metastatic disease vs initially localized disease/local therapy
Location and amount of presenting mHSPC–tumor burden and presence of visceral disease
Timing of progression to mCRPC, on or shortly after docetaxel, abiraterone or enzalutamide
PSA doubling time–short PSA doubling time (1-3 months) is associated with an aggressive disease state with short survival
For patients that progress on or shortly after docetaxel, Dr.Taplin suggests considering other chemotherapy over AR pathway treatment modalities. It is important in these situations to consider evaluating for neuroendocrine/small cell features and there should be a strong consideration for additional biopsies to guide subsequent therapy. Treatment options in this setting include cabazitaxel, docetaxel/carboplatin, carboplatin/PARP inhibitors, radium-223, lutecium-177, immunotherapy if there are MSI high mutations, and clinical trials that will allow mutation directed therapy.
For the treatment of favorable progression (=> median on phase 3 trials or after two years of AR-pathway therapy), there are several options based on what the patient received in the mHSPC setting: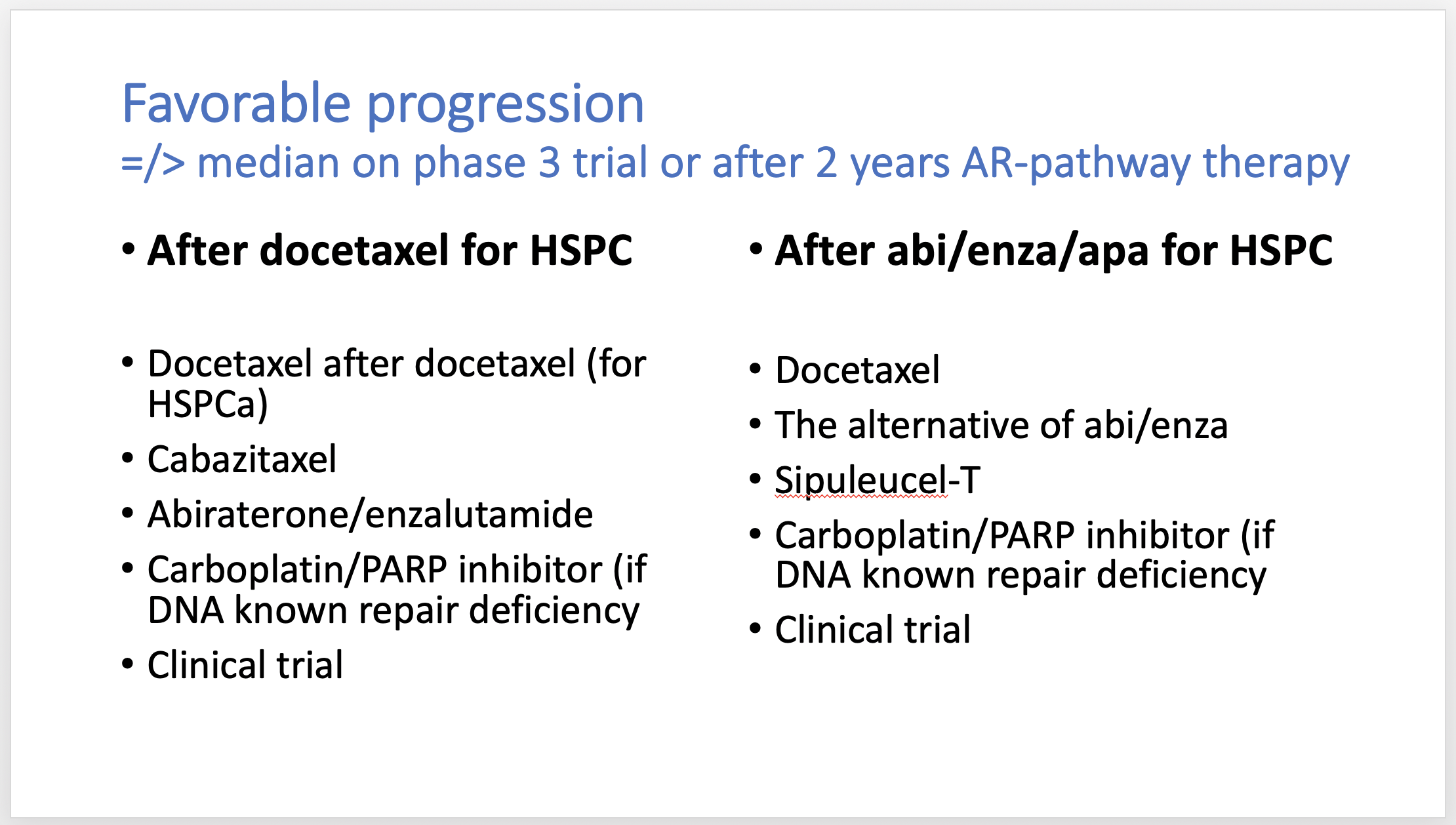 Dr. Taplin also discussed the utilization of low dose abiraterone with food as an alternative for patients with mCRPC. A phase II study randomized (1:1) 72 men with progressive CRPC to standard abiraterone dose (1,000 mg fasting) versus low-dose abiraterone (250 mg with a low-fat meal).1 Both arms received prednisone 5 mg twice daily. The log change in PSA, as a pharmacodynamic biomarker for efficacy, was the primary endpoint using a noninferiority design. At 12 weeks, there was a greater effect on PSA in the low-dose abiraterone arm (mean log change, -1.59) compared with standard abiraterone (-1.19), and noninferiority of low-dose abiraterone was established according to predefined criteria. The PSA response rate was 58% in the low-dose group and 50% in the standard abiraterone group and the median PFS was ~9 months in both groups. Dr. Taplin notes that regular dose abiraterone should still be the standard of care given its rigorous testing in multiple trials, however low dose abiraterone with food should be considered an option if circumstances support consideration (cost, patient preference, etc).
Dr. Taplin concluded with several summary points:
There are no validated biomarkers to select therapy in first-line mCRPC after ADT + docetaxel or AR-axis therapy in mHSPC
Clinical parameters of aggressive disease may lean patients more towards chemotherapy over other AR targeted treatments
If a patient has a favorable response to initial therapy, there are many options available, including AR-axis therapy, Sipuleucel-T, or chemotherapy
Low dose abiraterone with food can be considered in special circumstances with close monitoring for efficacy
Presented by: Mary-Ellen Taplin, MD, Chair, Executive Committee for Clinical Research, Director of Clinical Research, Lank Center for Genitourinary Oncology, Institute Physician, Professor of Medicine, Harvard Medical School, Dana-Farber Cancer Care, Boston, Massachusetts
Written by: Zachary Klaassen, MD, MSc–Assistant Professor of Urology, Georgia Cancer Center, Augusta University/Medical College of Georgia Twitter: @zklaassen_md at the 2019 Advanced Prostate Cancer Consensus Conference (APCCC) #APCCC19, Aug 29 – 31, 2019 in Basel, Switzerland
References: