Basel, Switzerland (UroToday.com) Dr. Michael Hofman discussed PSMA targeted therapies at the management of CRPC session at APCCC 2019, presenting data from both of his groups in Australia. Dr. Hofman notes that theranostics combines targeted therapeutics with a diagnostic companion, for example, a radioactive small molecule targets prostate-specific membrane antigen (PSMA), which is highly overexpressed in prostate cancer.
Lutetium-177 (177-Lu) is a short path beta emitter with a mean length of 1mm, average penetration of 0.3 mm, and a 6.7-day half-life. Starting in 2015, there was retrospective data to suggest a high activity of 177-Lu, with the first published case report of 177-Lu-PSMA-617 showing complete treatment response after two cycles of 177-Lu-PSMA-617. Dr. Hofman notes that 2015 was also the first time they performed their first 177-Lu-PSMA treatment at Peter Mac. In 2015, his group also started enrolling to the first prospective phase 2, single-arm study1. During enrollment, 43 men were screened to identify 30 patients eligible for treatment, which included a mean administered radioactivity dose of 7.5 GBq per cycle. There were 17 (57%) of 30 patients that achieved a PSA decline of 50% or more, and there were no treatment-related deaths. Objective response in nodal or visceral disease was reported in 14 (82%) of 17 patients with measurable disease. Clinically meaningful improvements in pain severity and interference scores were recorded at all time points, and 11 (37%) patients experienced a ten point or more improvement in global health score by the second cycle of treatment. The most common toxic effects related to [177Lu]-PSMA-617 were grade 1 dry mouth recorded in 26 (87%) patients, grade 1 and 2 transient nausea in 15 (50%), and grade 1 and 2 fatigue in 15 (50%). Grade 3 or 4 thrombocytopenia possibly attributed to [177Lu]-PSMA-617 occurred in four (13%) patients.
Updated date from Dr. Hofman shows they have now screened 75 patients and enrolled 50 patients for analysis. Although not as yet published, Dr. Hofman notes that 15 of 50 patients had re-treatment with LuPSMA with a PSA >50% response rate of 73%. In an assessment of the 16 patients they didn't treat, these patients were excluded for low PSMA-expression (50%) and discordant FDG+ disease (50%). Median OS in for these patients was only 2.5 months (95% CI 1.7-5.0 months)2.
Dr. Hofman concluded by highlighting several trials with 177Lu-PSMA that are ongoing:
TheraP Trial: 177Lu-PSMA-617 versus cabazitaxel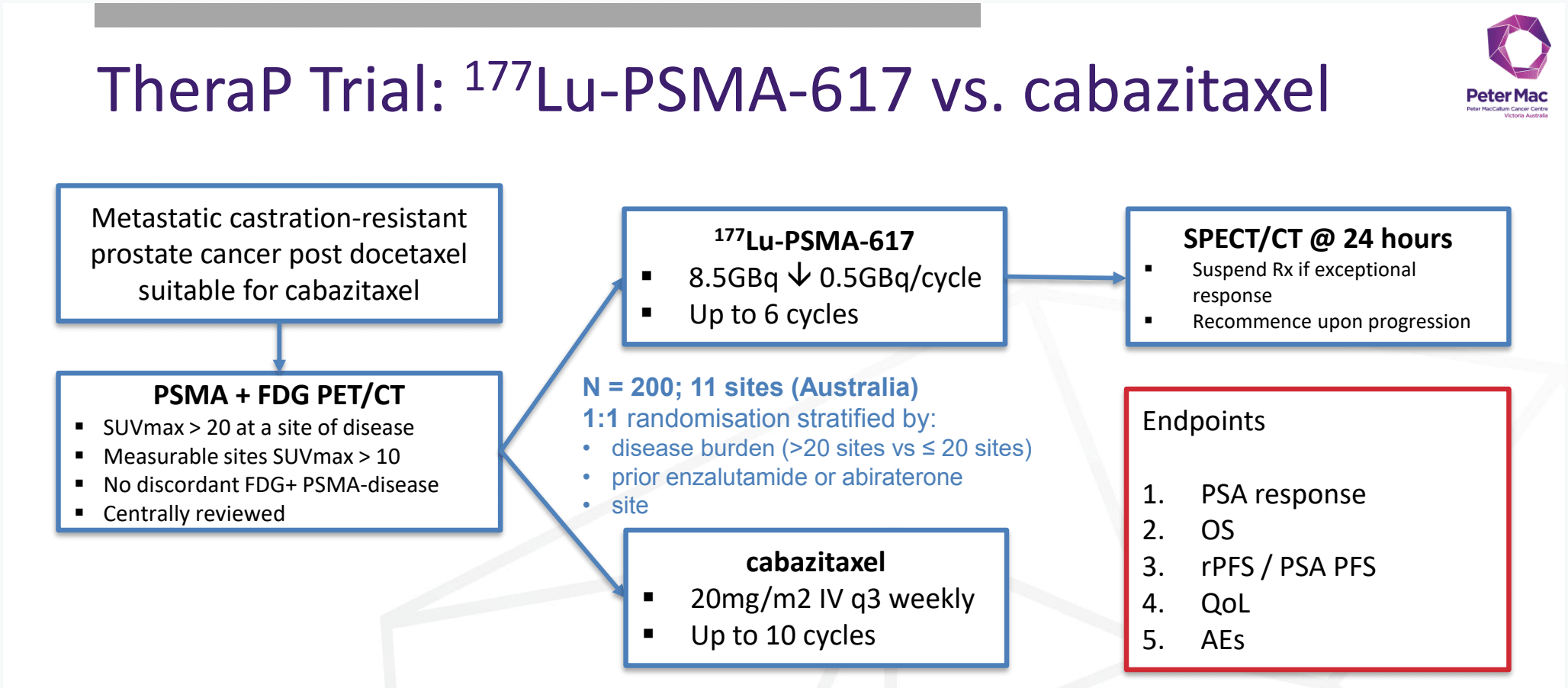 VISION Trial: 177Lu-PSMA versus best supportive care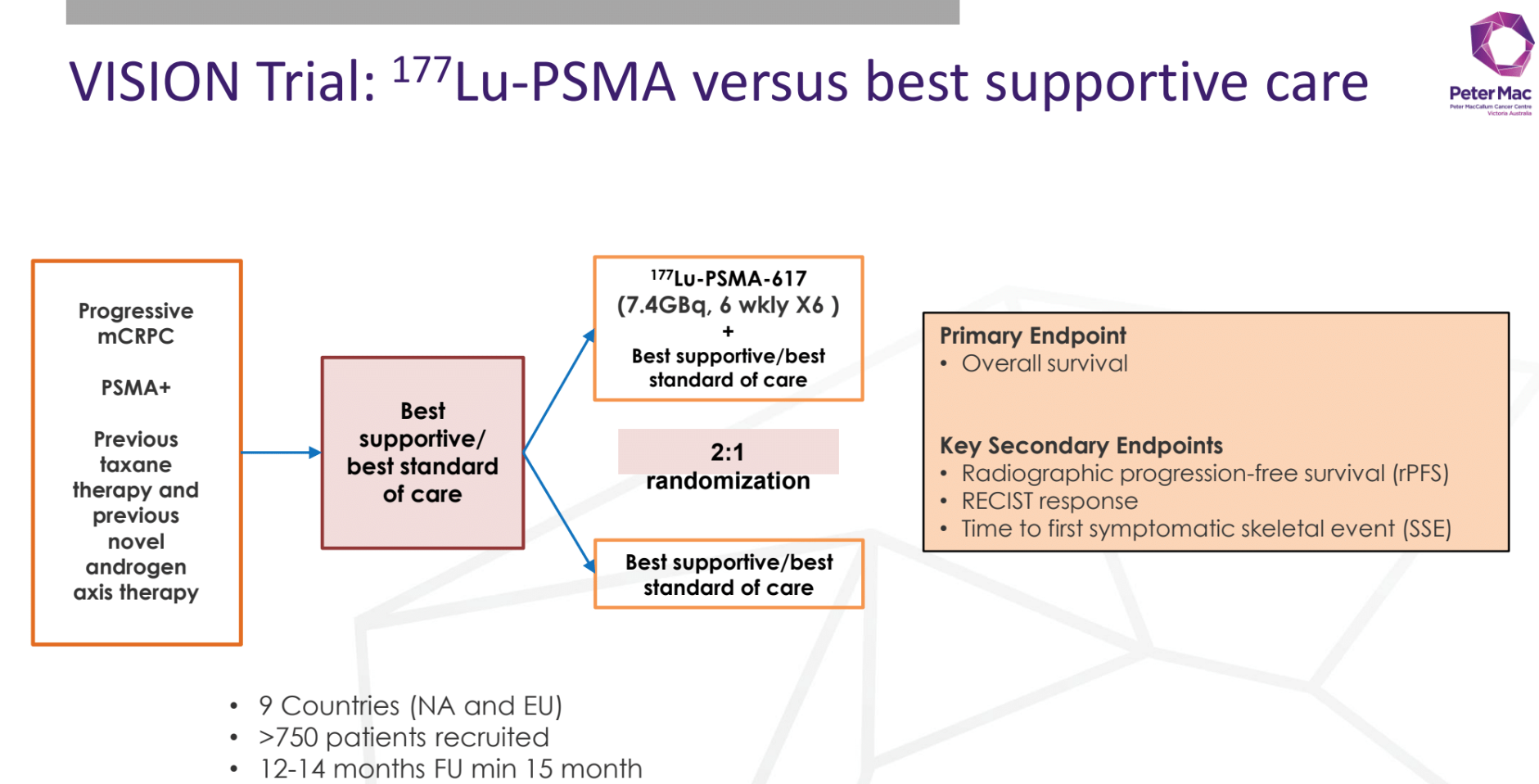 PRINCE Trial: PSMA-lutetium Radionuclide therapy and immuNotherapy in prostate cancer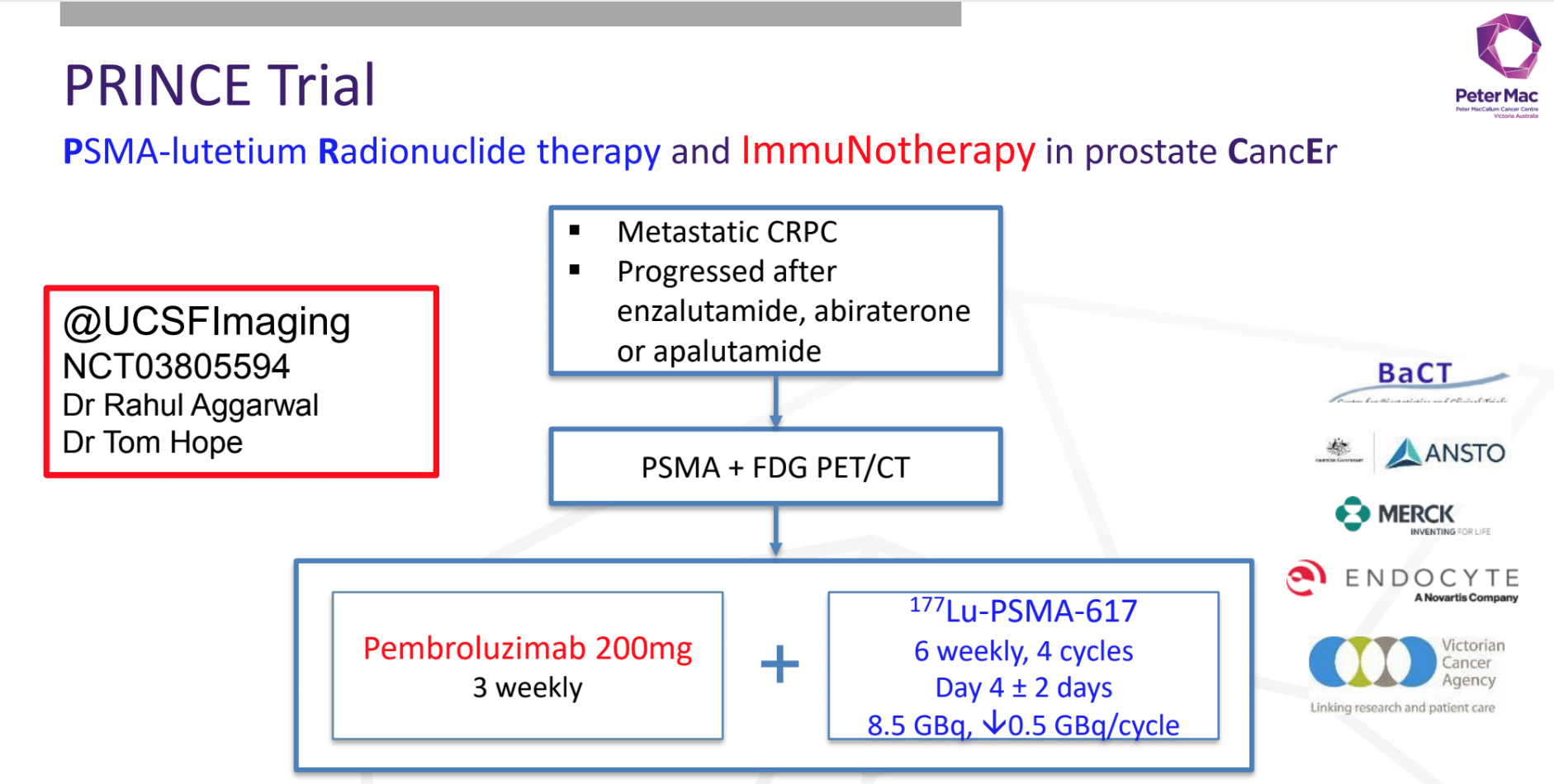 LuPARP Trial: Phase 1 trial of 177Lu-PSMA-617 therapy and olaparib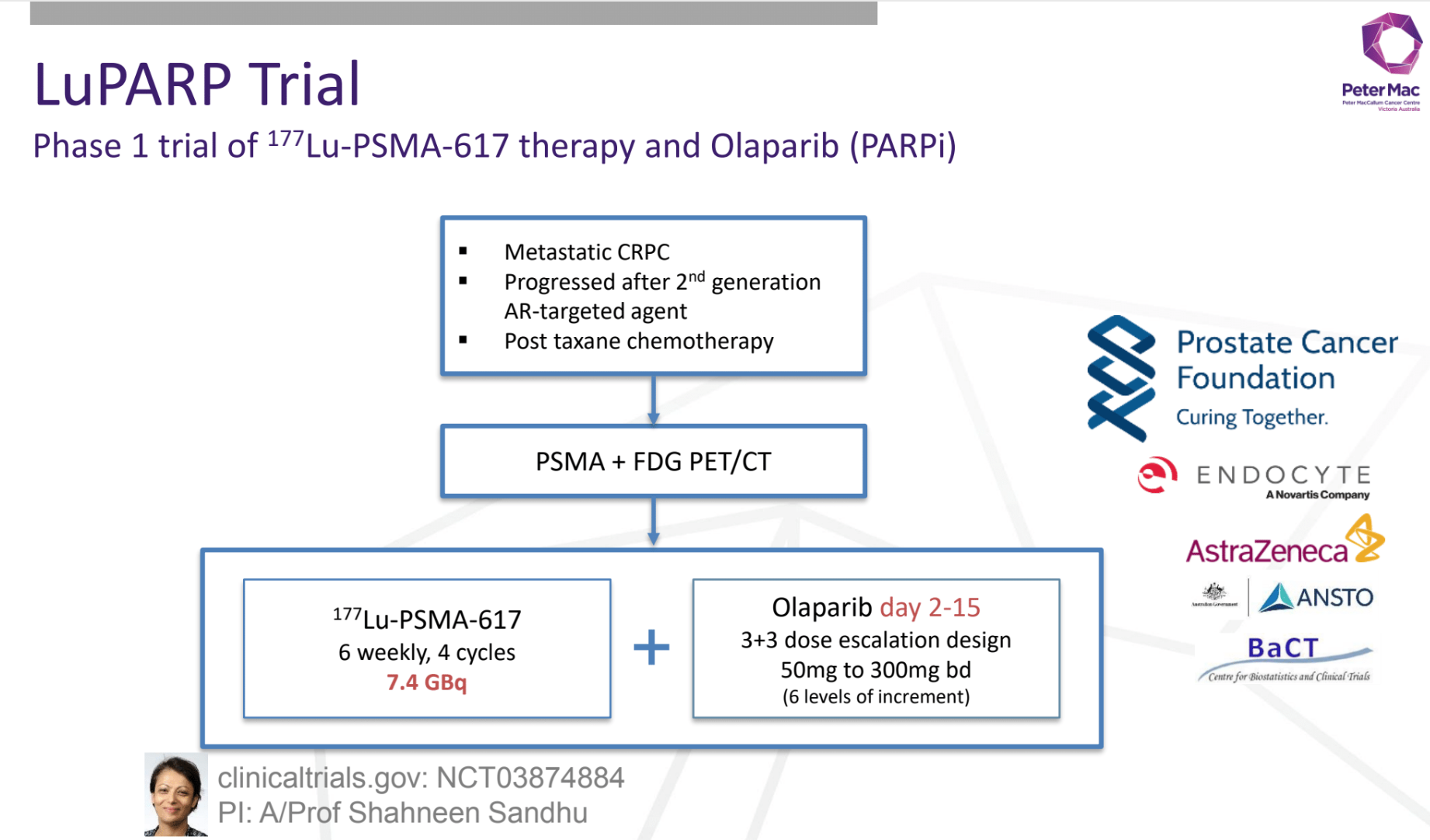 #UpFrontPSMA: high-volume metastatic hormone naïve prostate cancer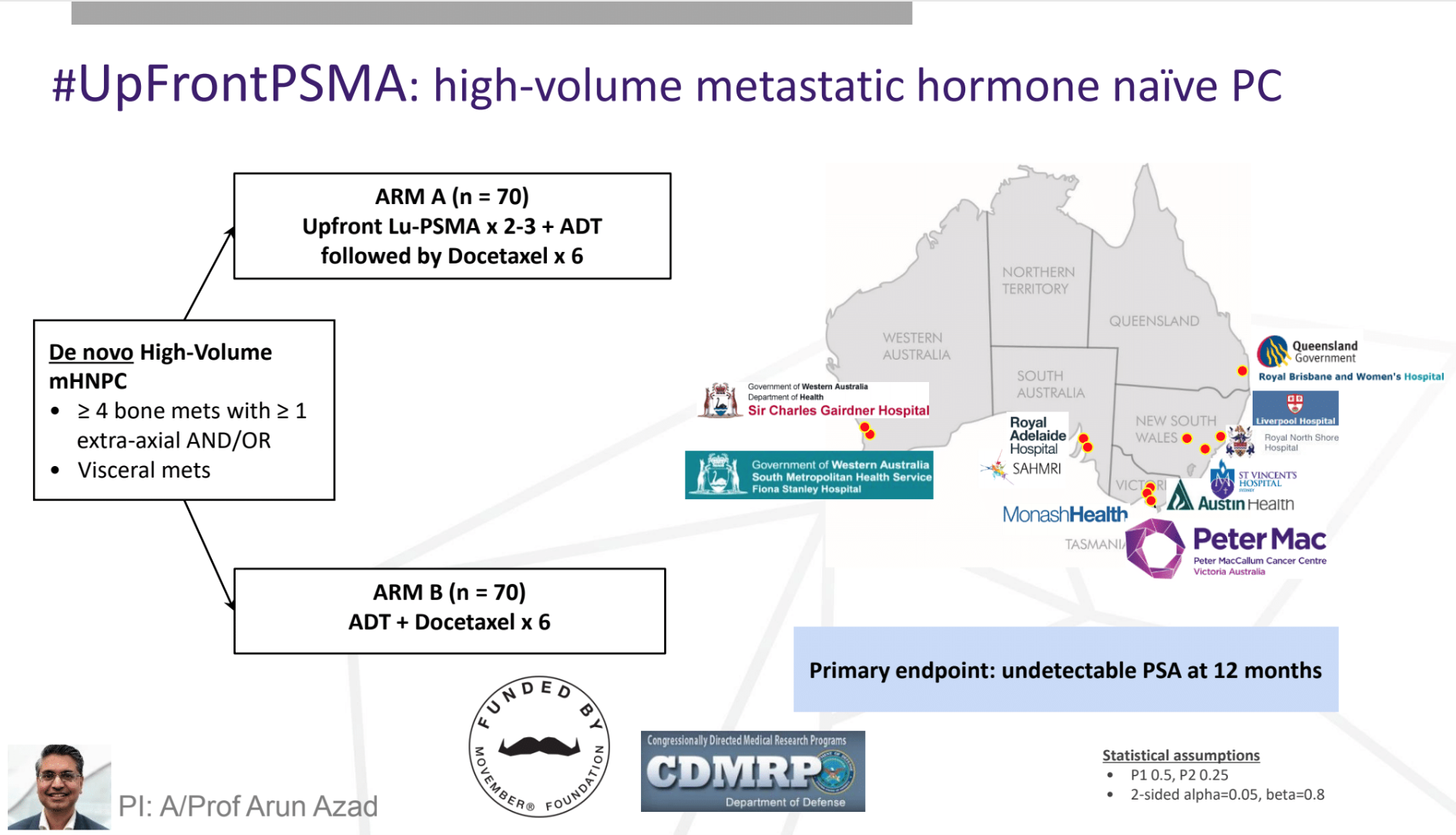 #LuTectomy: 177Lu-PSMA prior to surgery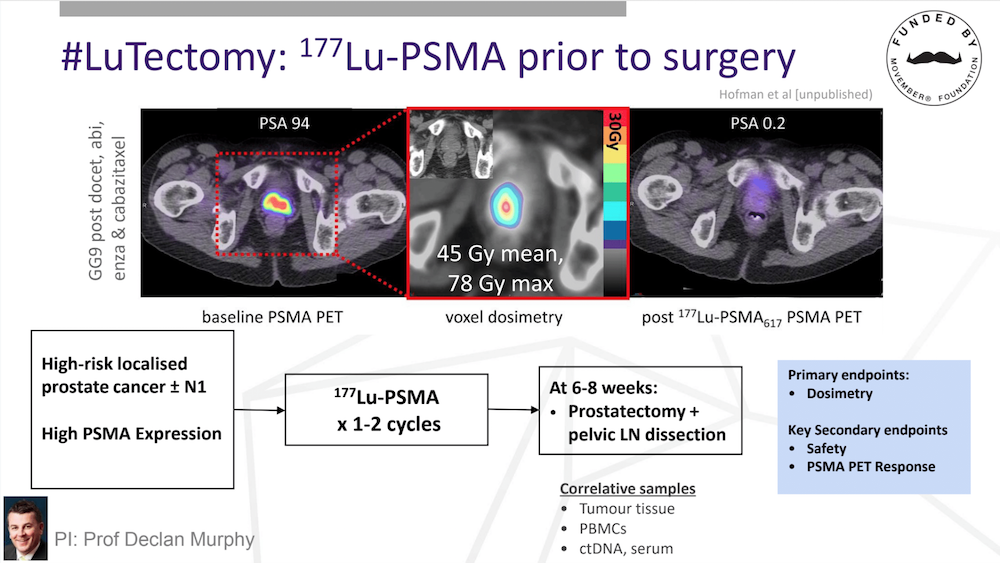 Presented by: Michael S. Hofman, Peter MacCallum Cancer Centre, Melbourne, Australia
Written by: Zachary Klaassen, MD, MSc – Assistant Professor of Urology, Georgia Cancer Center, Augusta University/Medical College of Georgia, Twitter: @zklaassen_md at the 2019 Advanced Prostate Cancer Consensus Conference (APCCC) #APCCC19, Aug 29 – 31, 2019 in Basel, Switzerland
References:
1. Hofman MS, Violet J, Hicks RJ, et al. [177Lu]-PSMA-617 radionuclide treatment in patients with metastatic castration-resistant prostate cancer (LuPSMA trial): A single-center, single-arm phase 2 study. Lancet Oncol 2018 Jun;19(6):825-833.
2. Thang SP, Violet J, Sandhu S, et al. Poor Outcomes for Patients with Metastatic Castration-resistant Prostate Cancer with Low Prostate-specific Membrane Antigen (PSMA) Expression Deemed Ineligible for 177Lu-labelled PSMA Radioligand Therapy. Eur Urol Oncol 2018 Dec 13 [Epub ahead of print].