Basel, Switzerland (UroToday.com) Immunotherapy expert Dr. Charles Drake delivered the immunotherapy for mCRPC at the management of CRPC session at the Advanced Prostate Cancer Consensus Conference (APCCC) 2019.
The first major successful trial in immunotherapy for prostate cancer was the IMPACT trial in 2010.1 Sipuleucel-T was FDA approved based on results of the phase III IMPACT clinical trial. This trial enrolled 512 patients with mCRPC who had an asymptomatic disease/minimally symptomatic with no visceral metastases, randomizing men to three infusions of sipuleucel-T (n=341) or placebo (n=171). The IMPACT trial noted a 4.1-month improvement in OS for those taking sipuleucel-T compared to placebo and a 22% reduction in risk of death. There was no difference between the groups with regards to objective disease progression or PSA response (secondary endpoints). An assessment of safety profile for patients in this study found that the treatment was overall well tolerated with minimal concern for severe adverse events.13 Furthermore, the immunologic assessment showed that patients with high antibody titers against PA2024 benefited the most from treatment, noting longer survival.
Pembrolizumab recently gained FDA approval for mCRPC patients with MSI + tumors. In a case series of 1,551 tumors from 1,346 patients, 1,033 patients who had adequate tumor quality for MSI analysis.2 Twenty-three of these 1,033 patients (2.2%) had tumors with high MSI scores, and an additional nine had indeterminate scores with evidence of dMMR. Eleven patients with MSI-H/dMMR CRPC received anti-PD-1/PD-L1 therapy, of which six (54.5%) had a greater than 50% decline in PSA levels, and four of whom had radiographic responses.
The STARVE-PC phase 2 trial was a biomarker-driven study of ipilimumab plus nivolumab for AR-V7 expression mCRPC patients.3 There were 15 patients enrolled with AR-V7-expressing circulating tumor cells that received nivolumab 3 mg/kg plus ipilimumab 1 mg/kg every 3 weeks for four doses, then maintenance nivolumab 3 mg/kg every 2 weeks. Six of 15 men (40%) had DNA-repair deficiency mutations (three in BRCA2, two in ATM, one in ERCC4; none had microsatellite instability), and the PSA response rate was 13%, ORR was 25% in those with measurable disease, median PSA-PFS was 3.0 months, median PFS was 3.7 months, and median OS was 8.2 months.
There are several exciting immunotherapy trials ongoing/planned:
IMbassador250: Atezolizumab + enzalutamide versus enzalutamide alone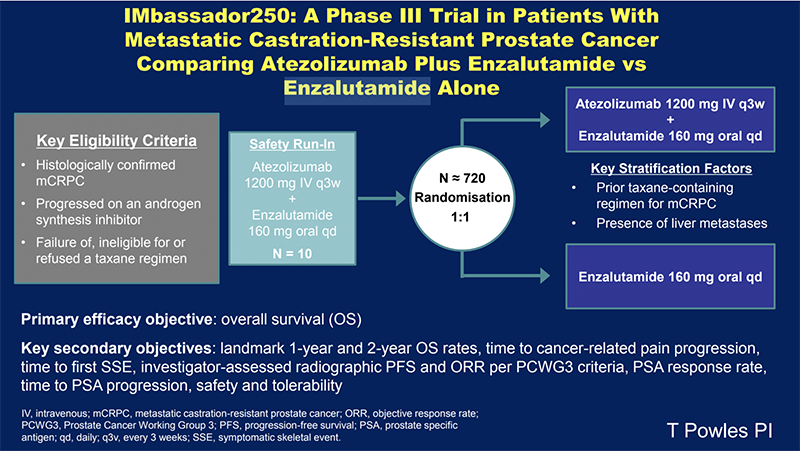 Neo-RED-P: Neoadjuvant trial of regulatory T Cell Depletion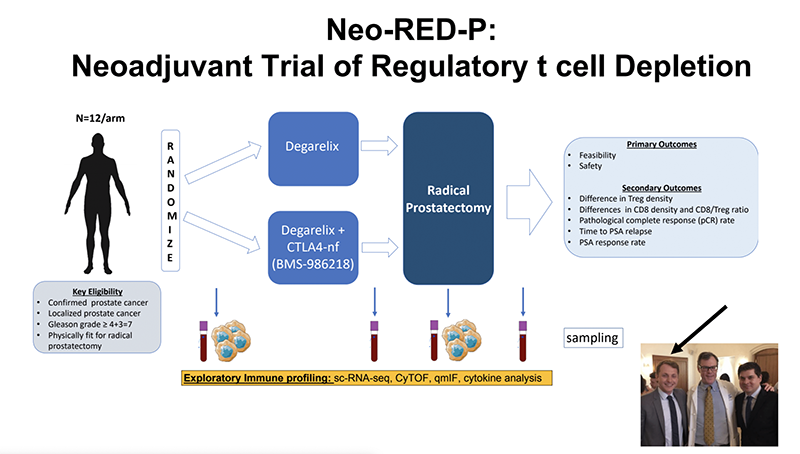 MAGIC-8: MAximizing ADT ImmunoGenIcity with Anti-IL-8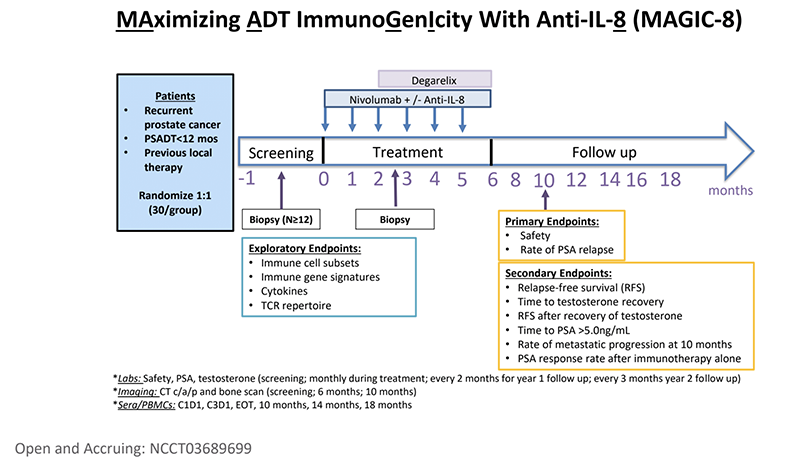 Dr. Drake concluded that the ongoing immunotherapy combination phase III trials are exciting, but that data will take time to mature and will not be available anytime soon.
Presented by: Charles G. Drake, MD, PhD, Department of Medicine, Division of Hematology/Oncology, Co-Director, Cancer Immunotherapy Programs, Columbia University Medical Center, New York, NY
Written by: Zachary Klaassen, MD, MSc – Assistant Professor of Urology, Georgia Cancer Center, Augusta University/Medical College of Georgia Twitter: @zklaassen_md at the 2019 Advanced Prostate Cancer Consensus Conference (APCCC) #APCCC19, Aug 29 – 31, 2019 in Basel, Switzerland
References:
Kantoff PW, Higano CS, Shore ND, et al. Sipuleucel-T immunotherapy for castration-resistant prostate cancer. N Engl J Med 2010;363(5):411-422.
Abida W, Cheng ML, Armenia J, et al. Analysis of the Prevalence of Microsatellite Instability in Prostate Cancer and Response to Immune Checkpoint Blockade. JAMA Oncol 2019 Apr 1;5(4):471-478.
Boudadi K, Suzman DL, Anagnostou V, et al. Ipilimumab plus nivolumab and DNA-repair defects in AR-V7-expressing metastatic prostate cancer. Oncotarget 2018 Jun 19;9(47):28561-28571.