Basel, Switzerland (UroToday.com) Dr. Stefano Fanti, a radiologist from Bologna, Italy, gave his point of view on how he sees the future in terms of prostate cancer imaging.
He began stating that the use of conventional imaging such as CT and bone scan should be regarded as obsolete starting from now. Novel imaging such as PET PSMA and MRI should be incorporated into practice immediately, as they are available and can give us enhanced and more accurate information when compared to the conventional and standard imaging modalities.
Conventional imaging (CT and bone scans) has limited sensitivity to depict nodal and bone disease in prostate cancer. Next-generation imaging, includes whole-body diffusion-weighted
MRI with novel radiopharmaceuticals for combined PET and CT, and combined PET and MRI is substantially more accurate in defining the extent of disease.1 Next-generation imaging enables:
Earlier initiation of treatment in patients whose disease cannot be diagnosed by conventional imaging.
Optimal change in treatment through earlier detection of disease progression.
Detection of the oligometastatic state, which may be treated more aggressively.
Guidance of tissue biopsies for molecular tumor characterization.
Development of novel predictive and prognostic biomarkers to guide therapies.
According to the EAU guidelines, it could be very tempting to conclude that bone scan and abdominopelvic CT must be replaced by more sensitive tests in all patients undergoing initial prostate cancer staging. But, the clinical benefit of detecting metastases at an earlier time-point still remains unclear.2 The guidelines state that the prognosis and ideal management of patients diagnosed with metastatic disease by these more sensitive imaging modalities is still unknown. It is unclear whether these patients should be contraindicated to local treatments and managed using systemic therapies, or whether they should be submitted to aggressive local and metastases-directed therapies.
Furthermore, according to the EAU guidelines to date, oligometastatic prostate cancer remains a systemic disease, which cannot be detected due to the insensitivity of the current diagnostic tests.3 The guidelines support well-designed controlled trials evaluating the management and outcome of patients with (and without) metastases detected by choline PET/CT, MRI, and PSMA PET/CT before any decision can be made regarding treatment.
It is clear that in the future of prostate cancer imaging will be deeply incorporated in all stages of the disease, from diagnosis to treatment, and to follow-up. This will include the initial diagnosis, staging, once biochemical recurrence occurs, at therapy planning and at therapy monitoring. Currently, there are 27 and 11 ongoing clinical trials assessing the role of PSMA in disease staging, and therapy planning, respectively. Hopefully, in the next few years, we will have plenty of data regarding the use of novel imaging modalities in disease staging and therapy planning.
Dr. Fanti concluded his talk with two interesting points:
In the very near future use of the combined modality of MRI and PET PSMA will be routine, giving us tremendous amounts of anatomical and functional information regarding prostate disease (Figure 1).
The ideal imaging tool should be small, portable, accurate and not expensive. Unfortunately, the currently used machines are the exact opposite – large, cumbersome, not-portable, and very expensive. Hopefully, with time these attributes will improve as well.
Figure 1 – mpMRI incorporated with PET-PSMA in prostate cancer: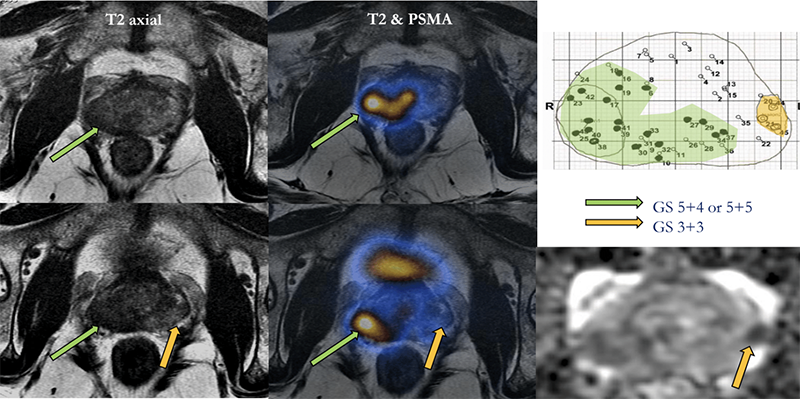 Dr. Fanti ended his talk with a nice slide showing his ABC's of prostate cancer imaging: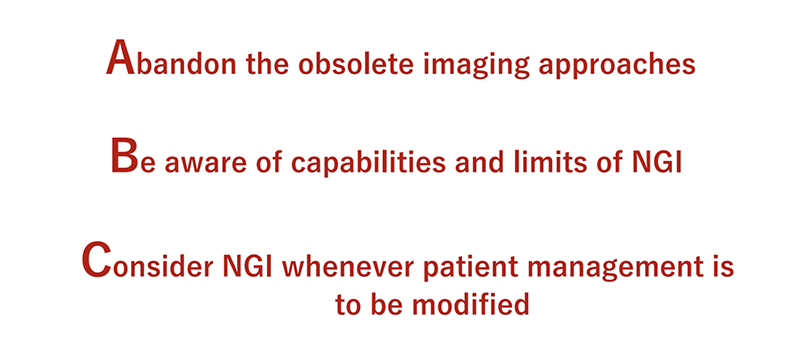 *NGI = Next-generation imaging

Presented by: Stefano Fanti, MD, Professor, Department of Experimental, Diagnostic and Specialty Medicine – DIMES, Director of Nuclear Medicine Division of the PET Unit, Director of Speciality School of Nuclear Medicine, University of Bologna, Bologna, Italy
Written by: Hanan Goldberg, MD, Urology Department, SUNY Upstate Medical University, Syracuse, New-York, USA @GoldbergHanan at the 2019 Advanced Prostate Cancer Consensus Conference (APCCC) #APCCC19, Aug 29 – 31, 2019 in Basel, Switzerland
References:
Perez-Lopez R, Tunariu N, Padhani AR, et al. Imaging Diagnosis and Follow-up of Advanced Prostate Cancer: Clinical Perspectives and State of the Art. Radiology. 2019;292(2):273-286.
Eiber M, Herrmann K, Fendler WP, Maurer T. (68)Ga-labeled Prostate-specific Membrane Antigen Positron Emission Tomography for Prostate Cancer Imaging: The New Kid on the Block-Early or Too Early to Draw Conclusions? European urology. Dec 2016;70(6):938-940.
Hicks RJ, Murphy DG, Williams SG. Seduction by Sensitivity: Reality, Illusion, or Delusion? The Challenge of Assessing Outcomes after PSMA Imaging Selection of Patients for Treatment. Journal of nuclear medicine : official publication, Society of Nuclear Medicine. Dec 2017;58(12):1969-1971.