Barcelona, Spain (UroToday.com) Treatment options for advanced urothelial cancers (UC) are limited, and the development of more effective therapies is a clear unmet need. In this session, Dr. Loriot discussed the previous two presentations: EV-103 looking at the combination of enfortumab vedotin (EV) and pembrolizumab as first line therapy in locally advanced and metastatic UCs, and BISCAY looking at targeted therapies based on tumor genomics in combination with standard of care durvalumab in platinum-refractory UC patients.
Dr. Loriot first laid out a framework for thinking about combination therapies. One important question is whether the therapies are additive or synergistic. Should they be only additive, consideration should be given as to whether they would be equally effective but potentially less toxic if given sequentially. If synergistic, it may be preferable to give the therapies together and allow for a greater toxicity profile. Indeed, preclinical data suggests that the chemotherapeutic payload of EV induces dendritic cell maturation and T cell priming, resulting in reported synergy with immune checkpoint blockade and supporting the clinical testing of combination EV with pembrolizumab as per EV-103. Preclinical data underlying the therapy combinations in BISCAY were not discussed.
By Dr. Loriot's review, the EV-103 data provides early compelling evidence of the EV + pembrolizumab combination, but he cautioned that response rate often does not ultimately lead to an overall survival benefit. Ultimately, randomized and larger trials are needed to further test this combination in the first-line treatment setting. Dr. Loriot also raised in the intriguing possibility of utilizing this combination in the neoadjuvant setting given its high overall response rate and notable complete response rate to improve surgical outcomes.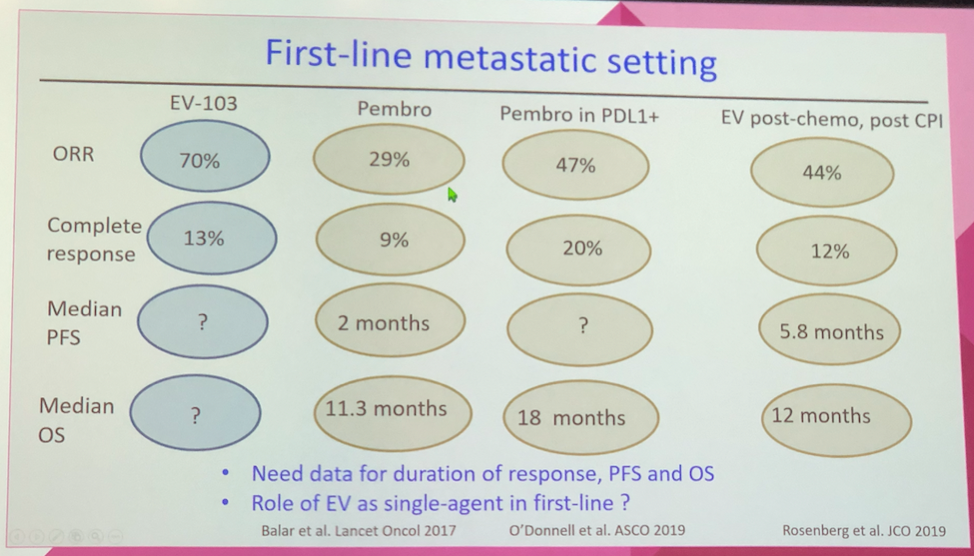 In his discussion of BISCAY, Dr. Loriot highlighted that the authors set a high expectation of overall response rate. He discussed that multiple factors may have influenced the observed response rates, including questions of drug activity on their intended pathway, whether the drugs induced immunogenic cell death, and whether the tumor genome selection criteria were too broad (for example, including mutations of unclear oncogenic significance in the FGFR pathway). Ultimately, while this trial design is quite promising in its ability to test multiple genomic alteration pathways and targeted drugs, it will be important to integrate such approaches with multi-omic correlative studies, functional assays, and pharmacologic studies of drug-drug interactions to optimally design combination approaches.
Presented by: Yohann Loriot, MD, Ph.D., Clinician Scientists, Institut Gustave Roussy and University of Paris-Saclay, Villejuif, Paris
Written by: Alok Tewari, MD, PhD, Medical Oncology Fellow at the Dana-Farber Cancer Institute, at the 2019 European Society for Medical Oncology annual meeting, ESMO 2019 #ESMO19, 27 Sept – 1 Oct 2019 in Barcelona, Spain