Barcelona, Spain (UroToday.com) Yohann Loriot, MD, MSc, provided a discussion of two trials in metastatic urothelial cancer, EV-103, and BISCAY, at the ESMO 2019 annual congress. Dr. Loriot notes that the current and future strategies of immunotherapy include (i) targeting multiple checkpoint pathways, (ii) increasing the neo-antigen expression, (iii) combining with chemotherapy, radiotherapy, and targeted therapies, (iv) targeting the microbiota, and (v) using checkpoint inhibitors earlier in the disease pathway.
There are several clinical points we should expect with combination therapy:
Efficacy – longer progression-free survival (PFS), longer duration of response, longer overall survival (OS), and response rates not necessarily different than monotherapy

Safety – higher risk of toxicities, treatment discontinuation, dose reduction, and impaired quality of life
Dr. Loriot notes that the potential added risk of toxicity should not outweigh the added overall survival benefit of combination therapy.
With regards to EV-103, Dr. Loriot highlighted that this trial combined enfortumab vedotin with pembrolizumab in first line, platinum ineligible patients. In his opinion, this study had an acceptable safety profile and a striking ORR of 71%. This is particularly impressive in the context of the profile of patients enrolled in the trial: 33% with liver metastases and 91% with visceral disease. Indeed, compared to other treatments in this setting, the results of EV-103 are encouraging:

Furthermore, he notes that enfortumab vedotin with pembrolizumab was active regardless of PD-L1 status. In Dr. Loriot's opinion, he suggests that a sequential biopsy is needed to know if PD-L1 status may be impacted, or alternative schedules need to be investigated to maximize immune stimulation. Dr. Loriot suggests that the next step for enfortumab vedotin with pembrolizumab is testing in the first-line setting. To do that we need randomized trials to get more data beyond response rate, such as assessing a possible OS benefit. Additionally, alternative dosing schedules/regimens should be considered, such as debulking first with enfortumab vedotin followed by later addition of pembrolizumab. He also thinks there is a potential for offering a platinum-free regimen in the first-line setting or maximizing a drug cocktail (ie. chemotherapy + enfortumab vedotin + checkpoint inhibitor).
Regarding BISCAY, Dr. Loriot states that this was an innovative design with a signal searching objective. However, the overall activity of combination therapy was quite disappointing. There are several potential reasons to explain these findings. First, response rate remains a justified signal-searching endpoint, but ORR is not always different even if there is a PFS or OS benefit. He also suggests that the investigators may have had an unrealistic expectation with the study designed to reach an ORR of 60%. Second, he questions whether the drugs are active enough? Does AZD4547 effectively inhibit the FGFR pathway and is it active enough to induce PD-L1 expression? To answer these questions Dr. Loriot suggests we need on-treatment biopsies. Third, there was a very high frequency of adverse events leading to dose reduction or dose interruption, ranging from 10.3%-86.7%. As such, dosing schedules and regimens should be re-evaluated.
There are several FGFR + checkpoint inhibitor combination trials ongoing: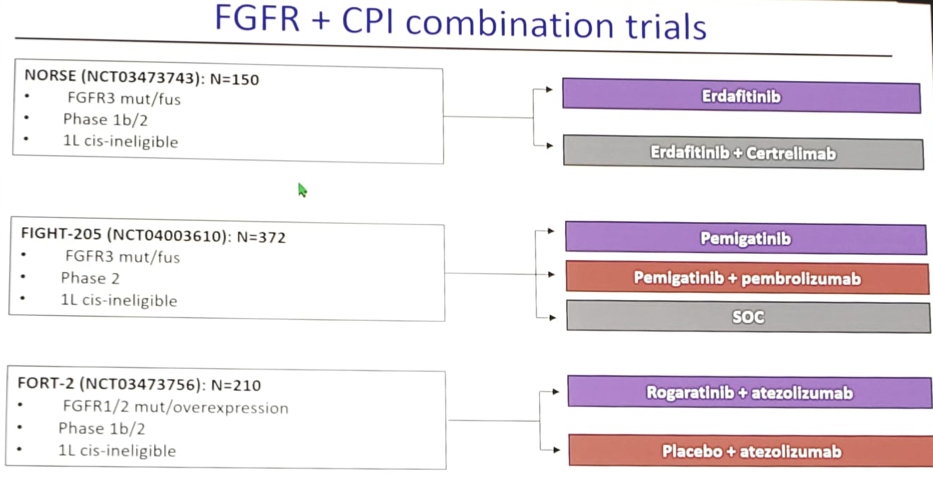 Additionally, there are other targeted therapy + checkpoint inhibitor combination trials ongoing: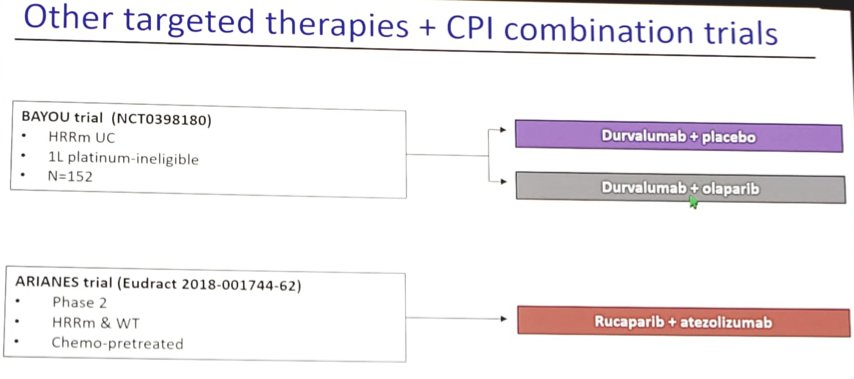 Presented by: Yohann Loriot, MD, MSc, Department of Cancer Medicine, INSERM U981, Villejuif, France
Written By: Zachary Klaassen, MD, MSc – Assistant Professor of Urology, Georgia Cancer Center, Augusta University/Medical College of Georgia, Twitter: @zklaassen_md at the 2019 European Society for Medical Oncology annual meeting, ESMO 2019 #ESMO19, 27 Sept – 1 Oct 2019 in Barcelona, Spain