Barcelona, Spain (UroToday.com) In this session, Ignacio Duran, MD, PhD, discussed the prior two sessions including 1) ENTRATA: Randomized, double-blind, phase 2 study of telaglenastat + everolimus vs. placebo + everolimus in patients with advanced/metastatic renal cell carcinoma (mRCC), and 2) Initial results from TROPHY-U-01: A Phase 2 open-label study of Sacituzumab Govitecan in patients with metastatic urothelial cancer (mUC) after failure of platinum-based regimens or immunotherapy.

Dr. Duran began with a discussion of the ENTRATA trial (NCT03163667), a randomized, double-blind Phase 2 trial designed to evaluate the efficacy and safety of telaglenastat in combination with everolimus versus placebo with everolimus in patients with mRCC who have been treated with at least two prior lines of systemic therapy, including at least one VEGF TKI. Telaglenastat is a novel glutaminase inhibitor designed to block glutamine consumption in tumor cells. Dr. Duran highlighted a robust pre-clinical literature that justifies this treatment strategy. Cancer cells undergo major reprogramming of metabolism. In ccRCC, there is a metabolic shift resulting in a dependence on the enzyme glutaminase to catalyze glutamine to glutamate.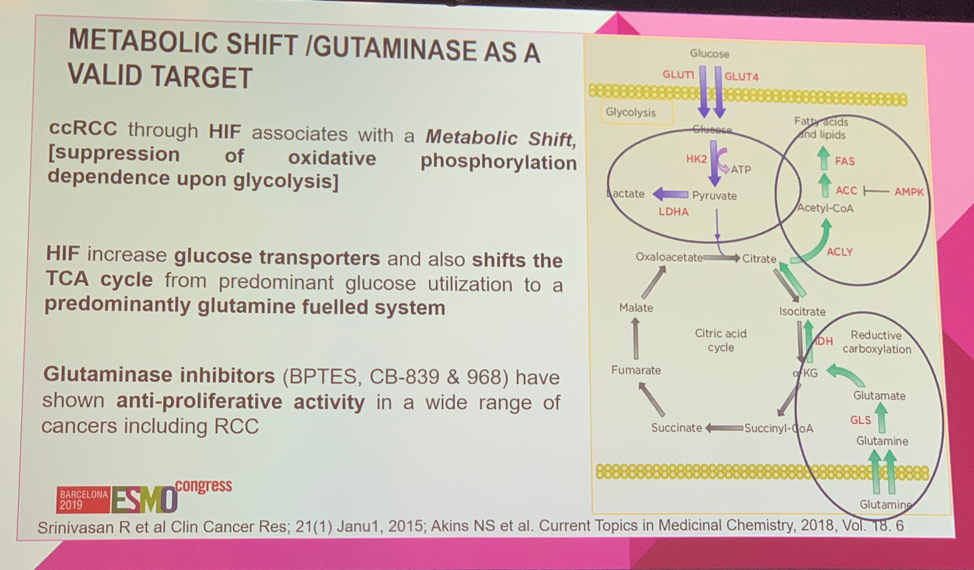 Although the study design and statistical methods were judged to be sound, Dr. Duran questioned why non-ccRCC patients were excluded as these histologies undergo extensive metabolic reprogramming as well. The ENTRATA trial found that the addition of telaglenastat to everolimus improved progression-free survival (PFS) from 1.9 months to 3.8 months (HR 0.64, one-sided p = 0.079), which met the primary pre-specified cut-off of one-sided p-value < 0.2. While acknowledging that this is a positive study according to the statistical design, Dr. Duran questioned whether a 1.9 month PFS benefit is clinically meaningful. To examine this further, he highlighted data from the International Metastatic RCC Database Consortium demonstrating that PFS to everolimus alone in the fourth-line setting was 3.6 months, suggesting that the control arm in the ENTRATA trial may have underperformed relative to what would be expected.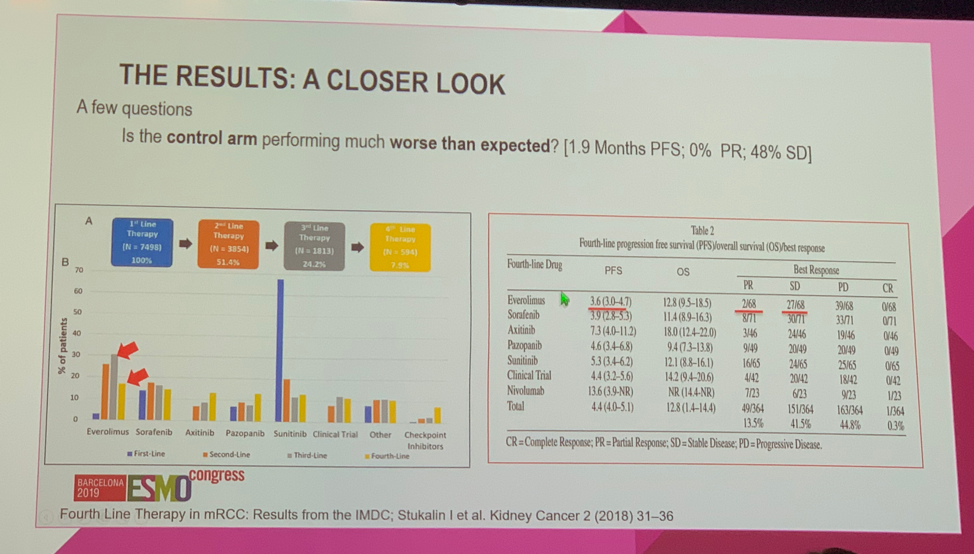 Dr. Duran summarized that this was a methodologically sound study, though the results call into question whether the addition of telaglenastat to everolimus provides meaningful clinical benefit. Data from the ongoing studies combining telaglenastat with cabozantanib (NCT03428217) or nivolumab (NCT02771626). Dr. Duran then moved on to discuss the data from Cohort 1 of the TROPHY-U-01 study evaluating Sacituzumab Govitecan (SG) in patients with mUC who progressed after prior platinum-based chemotherapy and an immune checkpoint inhibitor (ICI). SG is a Trop-2 directed antibody-drug conjugate (ADDC) linked to SN-38, a toxic payload that is the active metabolite of the chemotherapy drug irinotecan. Trop-2 is an epithelial cell surface antigen with high expression in mUC as well as other solid tumors. Dr. Duran agreed that evaluating SG in mUC is biologically sound.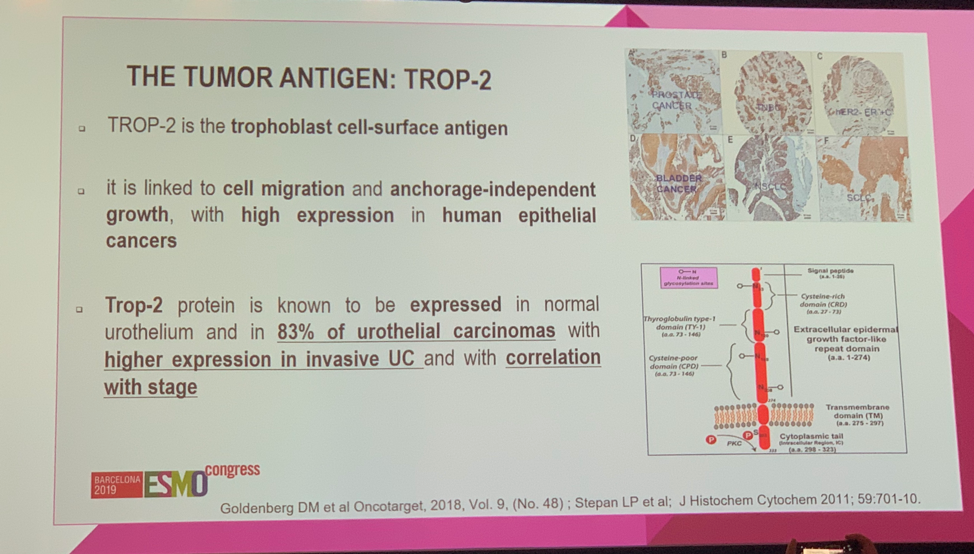 Further, he highlighted data from mouse models showing that compared with administration of standard irinotecan, SG resulted in 20-fold higher delivery of SN-38 to tumors and 9-fold lower intestinal concentrations of SN-38. Dr. Duran commented that the study population was heavily pre-treated patients (median of 3 prior lines of therapy) with 63% of patients having visceral metastases. In contrast, only 23% had liver metastases (lower than other studies in this setting), almost half of patients were ECOG 0 and 83% had 0 or 1 Bellmunt risk factors, which likely represents a less advanced population than would be seen in this clinical setting. This study found that after a median follow-up of 4.1 months, the ORR was 29% (10/35) with 6% of patients (2/35) achieving a complete response. Consistent with prior data, neutropenia was the most frequent treatment-emergent adverse event (TEAE), occurring in 66% of patients; an additional 11% of patients experienced neutropenic fever. Use of prophylactic granulocyte colony-stimulating factor (G-CSF) was permitted and Dr. Duran questioned how many patients required this to stay on therapy. Aggregating this data, he then compared SG to other ADDCs studied in the mUC population, most of which is immature, though Enfortumab Vedotin leads the way and is currently under review for FDA approval in patients who have progressed after prior treatment with platinum-based chemotherapy and an ICI.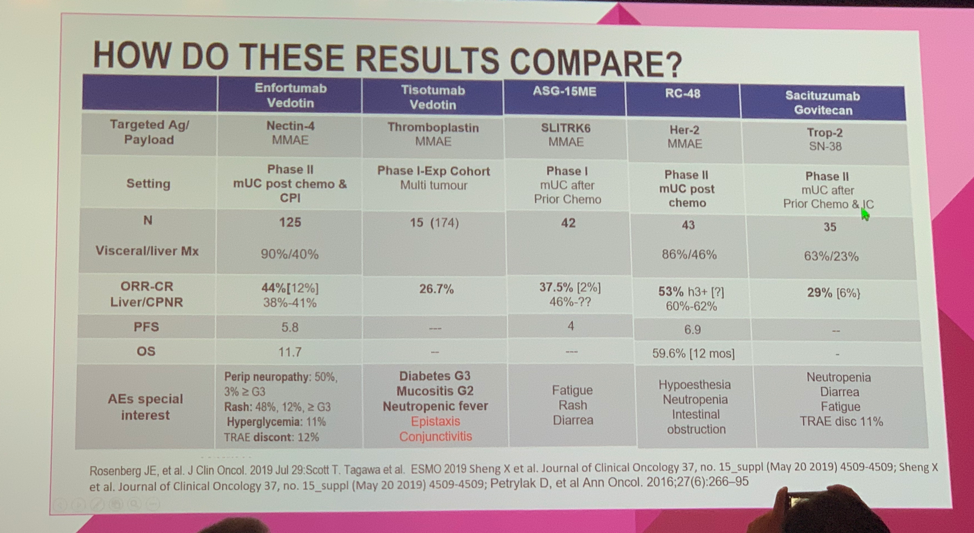 He concluded that whether SG or other ADDCs will change practice will depend on the mature data from the ongoing clinical trials.
Presented by: Ignacio Duran, MD, PhD is a Medical Oncologist and leads the GU oncology section at the Hospital Universitario Marques de Valdecilla in Santander, Spain
Written by: Jacob Berchuck, MD, Medical Oncology Fellow at the Dana-Farber Cancer Institute (Twitter: @jberchuck) at the 2019 European Society for Medical Oncology annual meeting, ESMO 2019 #ESMO19, 27 Sept – 1 Oct, 2019 in Barcelona, Spain