Barcelona, Spain (UroToday.com) Nivolumab + ipilimumab has been approved for the 1st line treatment of IMDC intermediate and poor-risk advanced RCC based on results from the CheckMate-214 trial1. However, administration of nivolumab + ipilimumab in a fixed regimen with 4 induction cycles may result in more treatment-related adverse events compared with nivolumab alone.
In previous studies, grade 3-4 treatment-related adverse events were 46% among patients receiving nivolumab + ipilimumab compared to 19% for nivolumab alone. It is hypothesized that a tailored approach starting treatment with nivolumab alone and using nivolumab + ipilimumab as immunotherapeutic boost will improve efficacy outcomes as compared to nivolumab alone and reduce adverse events. At ESMO 2019 annual congress, Dr. Grimm and colleagues presented initial results of TITAN-RCC.
The multicenter European TITAN-RCC study enrolled 258 first-line and second-line (after TKI) patients with IMDC intermediate and poor-risk, advanced clear cell RCC between October 2016 and December 2018. Patients started with nivolumab 240 mg Q2W induction. Patients with early significant progressive disease at week 8 or either stable disease or progressive disease at week 16 received 2-4 nivolumab + ipilimumab boost cycles. Responders (defined as either partial response or complete response) to nivolumab monotherapy continued with maintenance with nivolumab + ipilimumab boosts only for progression.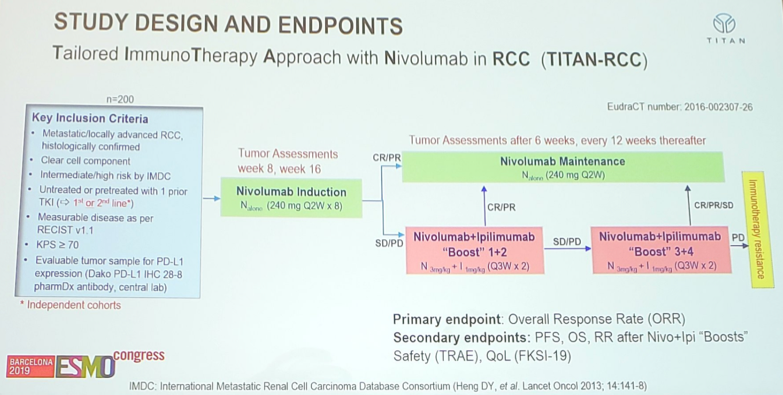 The primary endpoint is confirmed investigator-assessed objective response rate (ORR) per RECIST independent in first and second line. Secondary endpoints include activity of nivolumab monotherapy, remission rate with nivolumab + ipilimumab boosts, safety, overall survival and quality of life.
There were 108 first-line and 99 second-line patients available for efficacy analysis. The median age was 65 years (range 20-87), 70.5% were intermediate and 26.6% were poor risk. Over a median follow-up of 36.2 weeks, the confirmed ORR with first-line nivolumab monotherapy was 28.7 % (95% CI 20 – 38). The best overall response after nivolumab induction ± nivolumab + ipilimumab boosts was 37 % (95 % CI 28 – 47) in the first-line setting. In the second-line setting, the confirmed ORR with first-line nivolumab monotherapy was 18.2% and 28 % (95 % CI 20 – 38) with nivolumab + ipilimumab boosts.
Overall 64.3% of patients (133/207) received nivolumab + ipilimumab boosts. The results of progression-free survival (PFS) are as follows: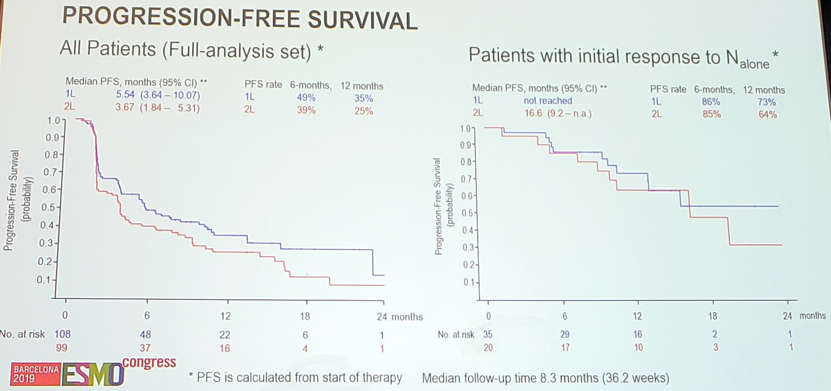 Overall survival is still immature. Grade 3-4 treatment-related adverse events were 26.9% in the first-line setting, and 34.3% in the second-line setting. Most commonly, these included increased lipase (5.8%) and diarrhea (4.8%).
Dr. Grimm concludes his presentation of TITAN–RCC with several take-home points:
This is the first study to assess the impact of a tailored approach using nivolumab + ipilimumab as an immunotherapeutic boost
In the first-line, this trial design significantly improved ORR compared to nivolumab monotherapy
No new safety signals were identified
TITAN-RCC provides further evidence to the added value of ipilimumab in combination with nivolumab in advanced RCC
Further follow-up is ongoing to characterize the duration and depth of response.
Presented by: Marc-Oliver Grimm, MD, University Hospital Jena, Germany
Co-Authors: M.-O. Grimm 1, M. Schmidinger 2, I. Duran Martinez 3, G. Schinzari 4, E. Esteban 5, M. Schmitz 6, U. Schumacher 1, G. Baretton 7, P. Barthelemy 8, B. Melichar 9, N. Charnley 10, D. Schrijvers 11, L. Albiges 12
1. Universitaetsklinikum Jena, Jena, DE
2. Vienna General Hospital (AKH) – Medizinische Universität Wien, Vienna, AT
3. Hospital Universitario Marques de Valdecilla, Santander, ES
4. Università Cattolica del Sacro Cuore, Rome, IT
5. Hospital Universitario Central de Asturias, Oviedo, ES
6. Medizinische Fakultät Carl Gustav Carus der TU Dresden, Dresden, DE
7. Universitätsklinik Carl Gustav Carus, Dresden, DE
8. C.H.U. Strasbourg-Nouvel Hospital Civil, Strasbourg, FR
9. University Hospital Olomouc, Olomouc, CZ
10. Royal Preston Hospital-Lancashire Teaching Hospitals NHS Foundation Trust, Preston, UK
11. Ziekenhuisnetwerk Antwerpen-Middelheim, Antwerp, BE
12. Institut Gustave Roussy, Villejuif, FR

Written by: Zachary Klaassen, MD, MSc – Assistant Professor of Urology, Georgia Cancer Center, Augusta University/Medical College of Georgia Twitter: @zklaassen_md at the 2019 European Society for Medical Oncology annual meeting, ESMO 2019 #ESMO19, 27 Sept – 1 Oct 2019 in Barcelona, Spain
Reference:
1. Motzer RJ, Tannir NM, McDermott DF, et al. Nivolumab plus Ipilimumab versus Sunitinib in Advanced Renal-Cell Carcinoma. N Engl J Med 2018;378(14):1277-1290.