Barcelona, Spain (UroToday.com) Cancer cells, including renal cell carcinoma cells, have long been known to preferentially utilize glycolysis rather than aerobic oxidative phosphorylation to produce intracellular ATP, a phenomenon known as the Warburg effect. In the relative absence of pyruvate created by the Warburg effect, cancer cells take up excess glutamine, which is converted to glutamate by the enzyme glutaminase, to feed the TCA cycle.1
The small molecule inhibitor telaglenastat is capable of blocking both metabolic pathways by inhibiting glutaminase as well as by blocking growth factor signaling.2 Furthermore, a small phase I study combining telaglenastat with everolimus or with cabozantanib found that among 24 evaluable renal cell carcinoma patients treated with telaglenastat plus everolimus, a single patient achieved a partial response and another 21 patients achieved stable disease for a remarkable 92% disease control rate and a median progression-free survival of 7.1 months.3 Based on these promising data, investigators carried out ENTRATA, a randomized phase II study of the mTOR inhibitor everolimus with or without the glutaminase inhibitor telaglenastat.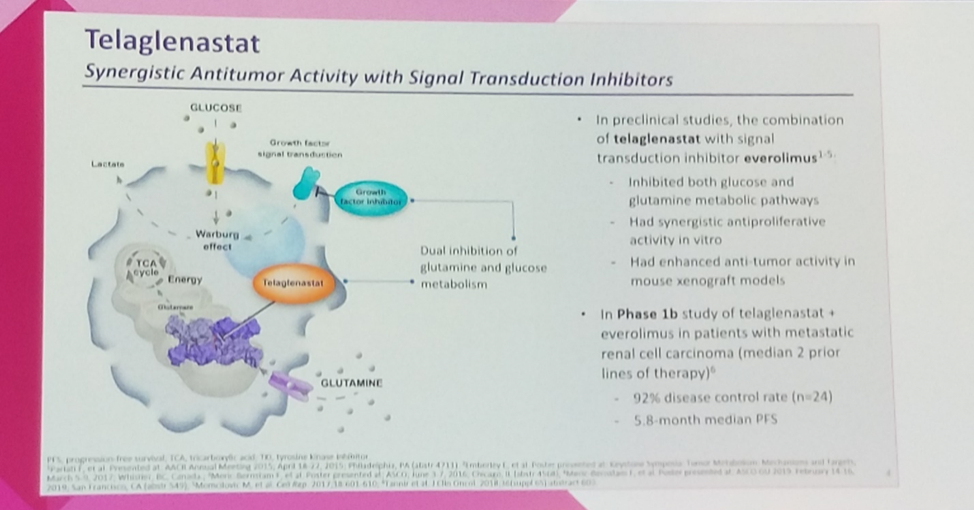 Dr. Lee presented data from this randomized phase II study in which patients with advanced or metastatic clear cell renal cell carcinoma who had progressed on ≥2 prior lines of therapy, one of which had to be a tyrosine kinase inhibitor with vascular endothelial growth factor (VEGF) receptor activity. A total of 69 patients were randomized 2:1 to receive everolimus (10 mg daily) with or without telaglenastat (800 mg twice daily). Of note, prior mTOR inhibitors were not allowed. Assuming a 3.7-month progression-free survival with everolimus monotherapy, investigators powered (alpha = 0.2) this trial to detect a PFS hazard ratio of 0.6.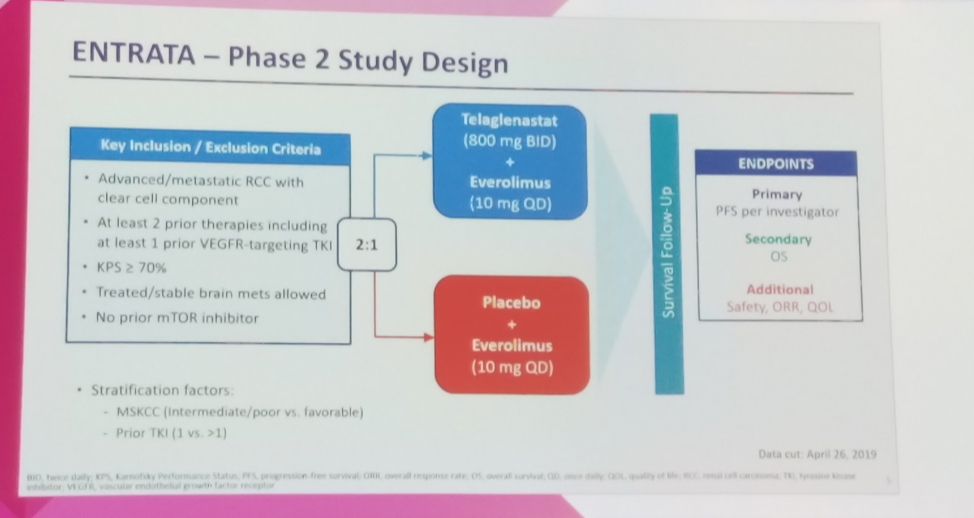 Baseline patient characteristics were well-balanced between the arms and fairly representative of the advanced heavily pretreated clear cell RCC population, with a median age of 65 in both arms and an 80-87% male predominance. 65-70% of patients in each arm were MSKCC intermediate-poor risk, and the 65-72% had received at least 2 prior TKIs. Additionally, 83-91% of patients had received prior anti-PD-1 or anti-PD-L1 immune checkpoint blockade.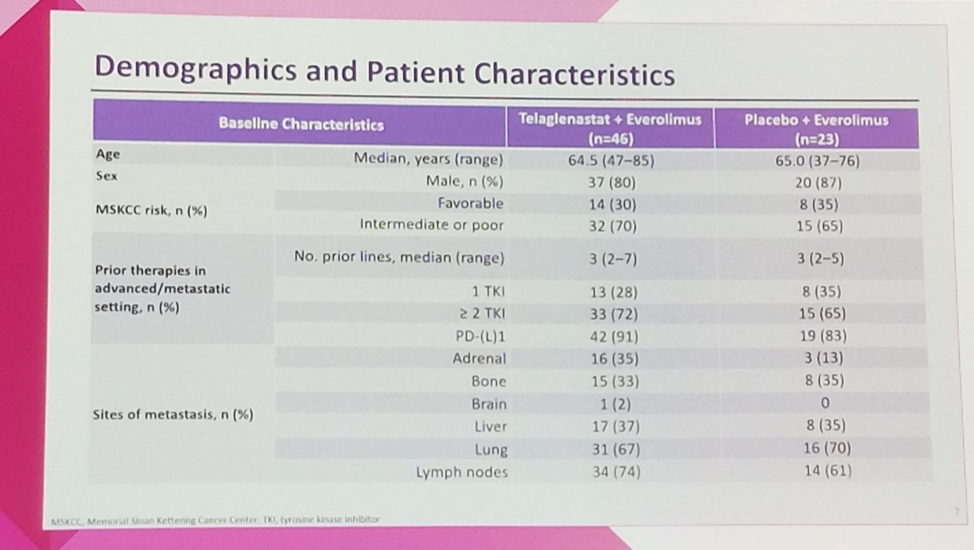 As Dr. Lee reported, ENTRATA met its primary endpoint, with the combination telaglenastat plus everolimus achieving a statistically significant improvement in progression-free survival of 3.8 months relative to 1.9 months with the placebo combination, with a hazard ratio of 0.64 (p = 0.079).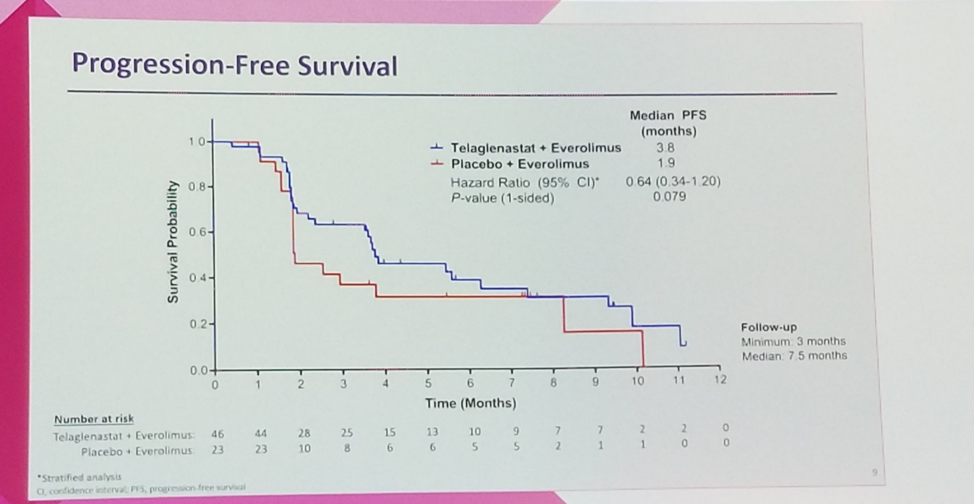 Grade 3 and grade 4 treatment emergent adverse events were generally high in this heavily-pretreated population, with 80% and 61% experiencing a grade ≥3 toxicity in the telaglenastat and placebo arms respectively. Fatigue was the most common adverse event in both arms, occurring in 44% of patients. Anemia was the most common grade ≥3 toxicity, occurring in 17% in each arm.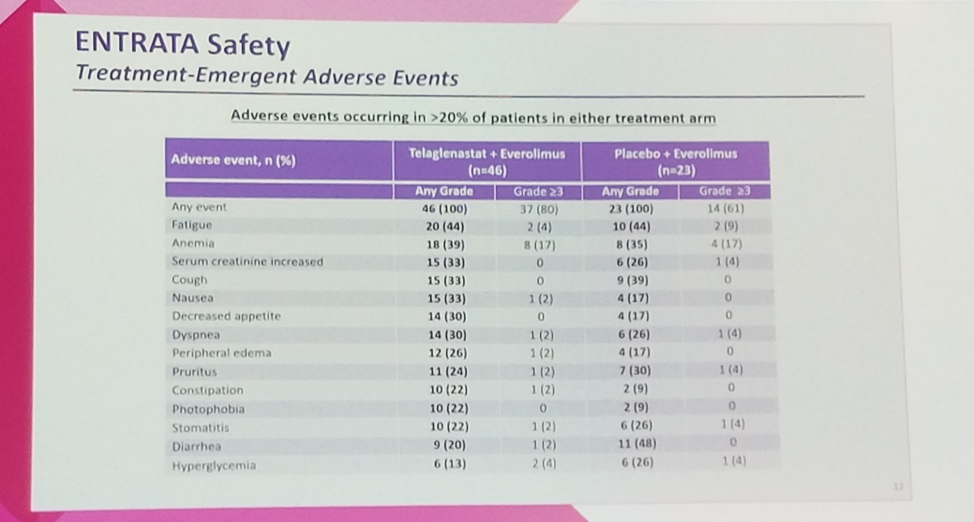 In summary, ENTRATA met is prespecified primary endpoint, as the combination of the glutaminase inhibitor telaglenastat plus everolimus achieved a statistically significant improvement in progression-free survival relative to everolimus alone. While overall survival data are not yet matured, it was noted that this 1.9-month improvement in progression-free survival, while statistically significant, may not represent a practice-changing result at this time. In particular, it was pointed out that the median progression-free survival of 1.9 months in the everolimus plus placebo arm was numerically lower than historical controls, and may be a confounding factor in analyzing the results of this trial. However, these positive results provide a clinical rationale for continued investigation of glutaminase inhibition as a strategy in advanced renal cell carcinoma. As the ENTRATA overall survival data are eagerly awaited, ongoing work on glutaminase inhibition in advanced renal cell carcinoma will focus on additional combinations, particularly with the tyrosine kinase inhibitor cabozantanib (CANTANA4).
Presented by: Chung-Han Lee, MD, PhD, Memorial Sloan Kettering Cancer Center, New York, US
Written by: Michael Lattanzi, MD, Medical Oncology Fellow, Memorial Sloan Kettering Cancer Center Twitter: @MikeLattanzi at the 2019 European Society for Medical Oncology annual meeting, ESMO 2019 #ESMO19, 27 Sept – 1 Oct 2019 in Barcelona, Spain

References:
1. Cantor JR, Sabatini DM. Cancer cell metabolism: one hallmark, many faces. Cancer discovery. 2012 Oct 1;2(10):881-98.
2. Momcilovic M, Bailey ST, Lee JT, Fishbein MC, Magyar C, Braas D, Graeber T, Jackson NJ, Czernin J, Emberley E, Gross M. Targeted inhibition of EGFR and glutaminase induces metabolic crisis in EGFR mutant lung cancer. Cell reports. 2017 Jan 17;18(3):601-10.
3. Tannir NM, Fan AC, Lee RJ, Carthon BC, Iliopoulos O, Mier JW, Patel MR, Meric-Bernstam F, DeMichele A, Voss MH, Harding JJ. Phase 1 study of glutaminase (GLS) inhibitor CB-839 combined with either everolimus (E) or cabozantinib (Cabo) in patients (pts) with clear cell (cc) and papillary (pap) metastatic renal cell cancer (mRCC). Journal of Clinical Oncology. 2018 Feb 20; 36 (6):603-603.
4. Meric-Bernstam F, Lee RJ, Carthon BC, Iliopoulos O, Mier JW, Patel MR, Tannir NM, Owonikoko TK, Haas NB, Voss MH, Harding JJ. CB-839, a glutaminase inhibitor, in combination with cabozantinib in patients with clear cell and papillary metastatic renal cell cancer (mRCC): Results of a phase I study. Journal of Clinical Oncology. 2019 Mar 01;37 (7): 549-549.