Barcelona, Spain (UroToday.com) Up to 25% of patients with metastatic castration-resistant prostate cancer (mCRPC) harbor a deleterious germline or somatic alteration in BRCA1, BRCA2, ATM, or other DNA damage repair (DDR) gene. Emerging data suggests that PARP inhibitors show clinical activity in patients with mCRPC and BRCA1/2 alterations. The TRITON2 investigators presented updated data using an enrollment cut-off of February 28, 2019.
Eligible patients were screened for the presence of a deleterious germline or somatic alteration in pre-specified DDR genes including BRCA1, BRCA2, ATM, and others. Mutations were identified either by local testing or through central testing of plasma or tumor tissue (screening tissue biopsy or archival tumor tissue). Patients had to have progressed on one prior androgen receptor (AR)-directed therapy and one prior taxane chemotherapy for CRPC. Additional notable inclusion criteria were no prior platinum chemotherapy or PARP inhibitor.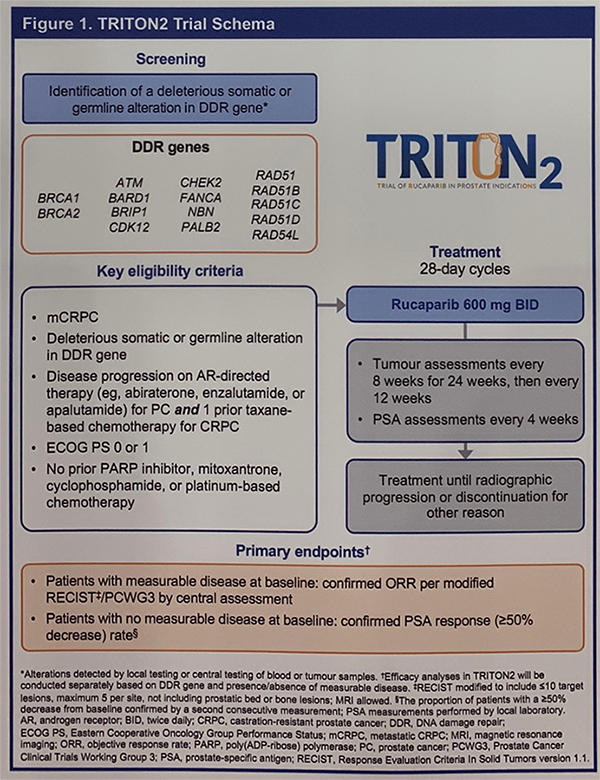 At the time of data cut-off, 190 patients were enrolled with the following alterations: BRCA1/2 (N=98), ATM (N=57), CDK12 (N=14), CHEK2 (N=7), and other (N=14). The median duration of follow-up was 13.1 months.
Among evaluable patients with a BRCA1/2 alteration, the investigator-assessed overall response rate (ORR) to rucaparib was 43.9%. Similar response rates were observed in patients with germline or somatic BRCA1/2 alterations. Among patients who achieved a radiographic response, 60% had a duration of response greater than 24 weeks.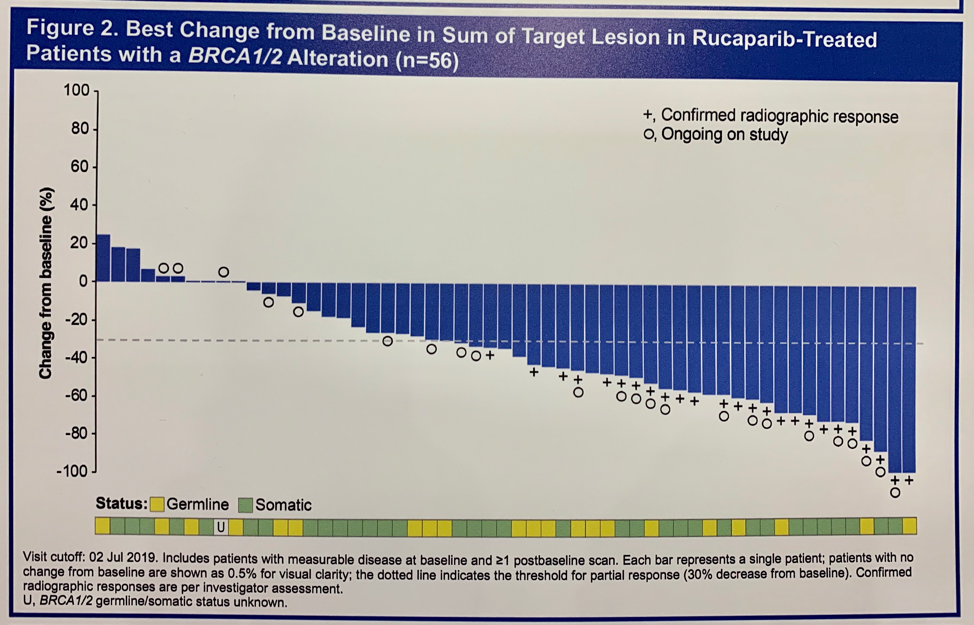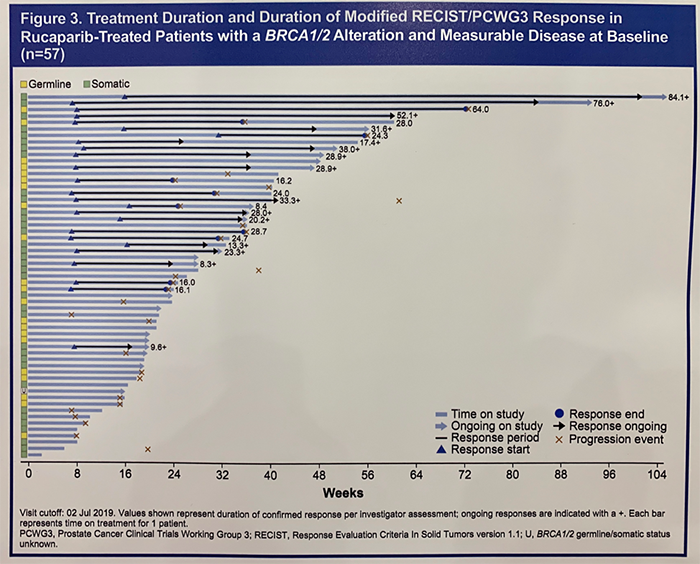 Breakdown of ORR by other DDR alterations is notable for 0 responses in patients with ATM or CDK12 alterations; 9.5% and 38.5% of patients with ATM and other DDR alterations responded. Confirmed radiographic or PSA responses were observed in patients with alterations in the following genes: ATM, CDK12, CHEK2, PALB2, BRIP1, FANCA, and RAD51B.
Clinical benefit in this study was defined as the proportion of patients without radiographic progression who were ongoing with treatment through the indicated time interval. Clinical benefit rates of 56.0% at 6 months and 24.5% at 12 months was observed among BRCA1/2 patients. Clinical benefit, albeit at lower rates, was seen in all other molecularly defined cohorts.


The safety profile of rucaparib was consistent with prior reports from TRITON2 and those in patients with ovarian cancer and other solid tumors. 98.4% of patients had any treatment-emergent adverse event (TEAE). The most common grade 3 or higher TEAEs were anemia (17.9%), fatigue (10.5%), and thrombocytopenia (6.3%). TEAEs necessitating treatment interruption and/or dose reduction occurred in 54.2% of patients and discontinuation in 9.5% of patients. There were 5 deaths (2.6%) in the study cohort. One was thought to be treatment-related (acute respiratory distress syndrome), while the otherwise were felt to be unrelated to rucaparib.
TRITON3 (NCT02975934) is an ongoing randomized, phase 3 study evaluating rucaparib versus physician's choice second-line therapy (androgen-receptor directed or docetaxel) in patients with chemotherapy-naïve mCRPC and a deleterious alteration in BRCA1, BRCA2, or ATM who have progressed on one prior androgen-receptor directed therapy. The study's primary endpoint is progression-free survival.
Presented by: Wassim Abida, MD, PhD, Medical Oncologist, Memorial Sloan Kettering Cancer Center, New York, New York, USA
Written by: Jacob Berchuck, MD, Medical Oncology Fellow at the Dana-Farber Cancer Institute (Twitter: @jberchuck) at the 2019 European Society for Medical Oncology annual meeting, ESMO 2019 #ESMO19, 27 Sept – 1 Oct 2019 in Barcelona, Spain